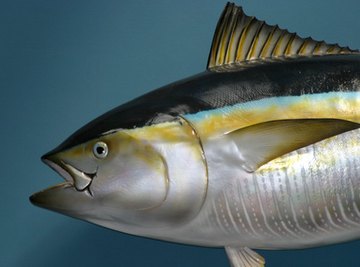 Fish are cold-blooded creatures, and most of them cannot control their internal temperature, like humans. In order to stay at a healthy temperature, or obtain temperature homeostasis, the fish seek warmer or colder water. Some fish also have additional mechanisms to keep a healthy temperature.
Heat Creation
Fish, like all animals, create heat from metabolic activity. Metabolic activity includes breaking down food and movement.
Heat Loss
Fish lose metabolic heat through their gills. This happens because the heated blood that runs though vessels in the gills comes into close contact with the colder water outside, and the heat is lost to the water.
Homeostasis
Most fish are poikilothermic, which means their body temperature changes with ambient temperature. In this case, it refers to the temperature of the water around them. Poikilothermic fish control this by moving from colder water to warmer water. An example of this is when a fish moves to the bottom of a pond when the top of the pond is frozen over.
Exceptions to Pure Poikilothermy
Certain fish, such as sharks and tuna, can control their body temperature using a paired blood vessel system, where warm blood going to the gills swaps heat to colder blood coming back from the gills, thereby keeping a higher blood temperature than pure poikilothermic fish.
References
About the Author
Jillian O'Keeffe has been a freelance writer since 2009. Her work appears in regional Irish newspapers including "The Connacht Tribune" and the "Sentinel." O'Keeffe has a Master of Arts in journalism from the National University of Ireland, Galway and a Bachelor of Science in microbiology from University College Cork.
Photo Credits