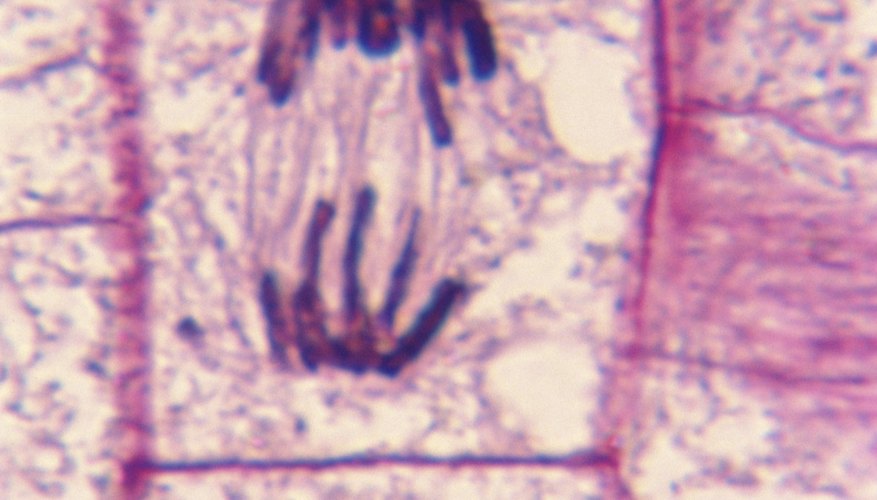 Mitosis is the period of time when a cell divides up its genetic material, in preparation for the subsequent process of splitting into two cells, called cytokinesis. The five stages of mitosis are therefore sandwiched between interphase, which is the phase the cell spends most of its time in -- just going about its daily business -- and cytokinesis. "Mitosis" actually means "threads," a term that describes the appearance of the genetic material in the cell as it pulls apart.
Prophase
Prophase, the first stage of mitosis, follows immediately after interphase. The cell has already duplicated its genetic material in interphase, and during prophase the DNA condenses up tightly. Different proteins aid in the condensation process, such as condensin and cohesin. Using a microscope, the DNA appears as X-shapes because the individual chromosomes are stuck together at their center points. This crossover point is called the centromere. During prophase, the cell also builds a structure called a mitotic spindle. The mitotic spindle is like scaffolding that will tug the DNA toward each side of the cell and separate it into two in later mitotic stages.
Prometaphase
In prometaphase, the protective membrane that normally surrounds the DNA begins to break down. This leaves the DNA in little membrane bubbles that can be easily accessed by the developing mitotic spindle to grab onto. When the mitotic spindle fibers find a bit of DNA, they connect directly to a set of proteins called the kinetochore, which are at the centromere. The spindle then pulls from each end of the cell in a sort of microscopic tug-of-war.
Metaphase
During metaphase, the chromosomes line up in the center (equator) of the cell. They are neatly arranged in preparation for the equal distribution of half the genetic material to the two future daughter halves of the initial cell. In metaphase, the DNA is very tightly compressed.
Anaphase
In anaphase, the chromosomes split up into identical sets. This occurs because enzymes chew up the proteins, such as cohesin, that keep the chromosomes together. The mitotic spindle apparatus pulls each half of the chromosomes to each end of the cell.
Telophase
As the chromosomes get to opposite sides of the cell, telophase begins. The spindle scaffold breaks down and the protective membrane around the DNA reforms so that each set of DNA now has a full membrane. The cell is now ready to divide into two, with each daughter cell retaining a full copy of the cellular DNA.