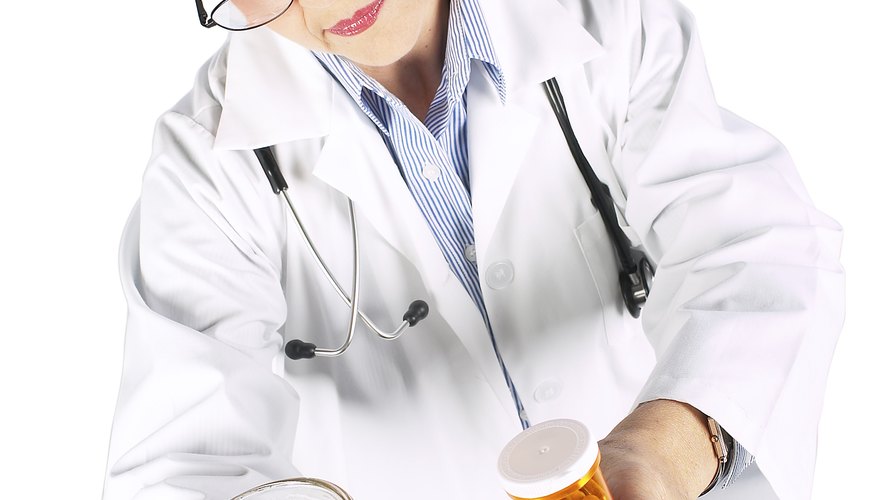 Hemera Technologies/PhotoObjects.net/Getty Images
Glycolysis is the first step in a series of processes known as cellular respiration. The aim of respiration is to extract energy from nutrients and store it as adenosine triphosphate (ATP) for later use. The energy yield from glycolysis is relatively low, but in the presence of oxygen, the end products of glycolysis can undergo further reactions that yield large amounts of ATP.
Results of Glycolysis
Glycolysis converts one molecule of glucose into two molecules of pyruvate. The 10-step process creates a net gain of two ATPs and two molecules of nicotinamide adenine dinucleotide (NADH), an important reducing agent used by many different biochemical reactions. Cellular conditions dictate the fate of the two pyruvates as they exit glycolysis. In the absence of oxygen, the pyruvates are fermented into lactate, which recycles NADH into its oxidizing form, NAD+. If oxygen is present, the cell can reap much more energy through the oxidative decarboxylation of pyruvate and the citric acid cycle.
Pyruvate at the Crossroads
A cell can use the product of glycolysis, pyruvate, in several metabolic pathways besides decarboxylation. Gluconeogenesis might steal the pyruvates if the cell wants to convert the pyruvates into carbohydrates. The cell can also use pyruvates to synthesize the amino acid alanine, as well as ethanol, oxaloacetic acid, lactic acid and other fatty acids. Several regulatory factors influence the amount of pyruvate created by glycolysis. For example, high concentrations of ATP or the hormone glucagon inhibit glycolysis, whereas insulin stimulates the production of pyruvate.
Oxidative Pyruvate Decarboxylation
The presence of oxygen allows the cell to convert pyruvate into acetyl CoA, a coenzyme that can yield additional energy in the citric acid cycle. Pyruvate decarboxylation also converts two NAD+ molecules into two NADH and creates carbon dioxide as a byproduct. An enzyme complex, pyruvate dehydrogenase, catalyzes pyruvate decarboxylation, which takes place in the cell's mitochondria. The process first removes a carbon dioxide molecule from pyruvate and then binds the remaining acetyl group to Coenzyme A, producing acetyl-CoA that is ready for use by the citric acid cycle.
Citric Acid Cycle
The citric acid cycle, also known as the Krebs cycle, accepts the two acetyl-CoA molecules derived from the original glucose molecule that underwent glycolysis and pyruvate decarboxylation. In a series of 10 steps, the citric acid cycle yields about 25 ATP molecules per original glucose, in addition to the two ATPs generated by glycolysis. Most of the ATPs from the citric acid cycle arise indirectly through secondary oxidative phosphorylation reactions involving the oxidation of NADH into NAD+.