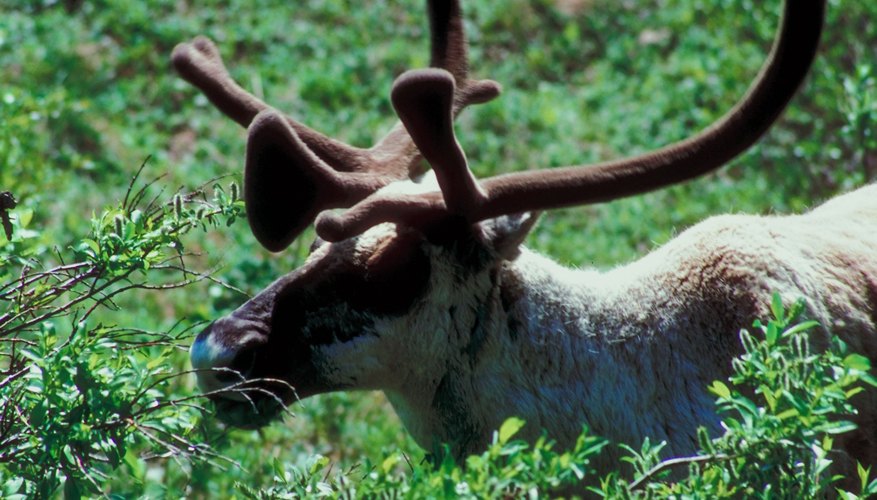 In nature, it is "eat and be eaten": all organisms, aside from plants and other producers, must eat organic matter for energy, and most organisms are eventually eaten by other organisms. Food chains track the transfer of energy and inorganic nutrients from one organism to another. In a tundra ecosystem, where winters are long and harsh and summers short and cool, the window of opportunity for finding abundant food can be fleeting and the competition intense.
Tundra Ecosystems
As with other biomes of the world, within the tundra are subcategories of tundra ecosystems. Alpine tundra exists above the treeline in mountains around the world, while the Arctic tundra lies in arctic regions north of boreal forest biomes and south of the Arctic biome. During the short summers in southern parts of the arctic tundra, the top layer of permafrost -- a mix of frozen soil and dead plants that can extend 450 meters deep -- thaws in places, creating bogs and lakes. Many birds migrate into the Arctic tundra in summer to eat the swarms of insects that hatch and thrive in the boggy environment, and many mammals move in for the abundant food. Cold weather through much of the year means decomposition proceeds very slowly in the Arctic tundra; thus, much of the plant matter only partially decomposes and the soil is nutrient-poor.
Tundra Flora
Different species of plants, animals and other life can be found in alpine versus Arctic tundra ecosystems, but they share some characteristics. To survive the cold, low precipitation, poor soils and wind, tundra plants and other vegetation -- the autotrophs or producers in tundra food chains -- tend to be small and "hug" the ground. They may have hairy leaves to trap heat, or grow in rock depressions where they are sheltered from the wind. Most Arctic tundra vegetation is made up of mosses, liverworts, lichen, short shrubs, sedges and grasses, while the alpine tundra also hosts cushion plants.
Tundra Fauna
Tundra animals -- the heterotrophs or consumers in tundra food chains -- tend to be short and stocky, have thick feathers or fur and have a layer of fat to better endure cold. Many turn white in winter to hide better in the snow. Alpine tundra animals include ptarmigans, snowshoe hares, mountain goats, bighorn sheep, elk, pikas, alpacas, llamas and yaks -- all herbivores, or plant-eaters. Carnivores, or meat-eaters, include lynx, snow leopards and mountain lions, while Andean condors are scavengers and voles and gray jays are omnivores. Arctic tundra animals include the herbivores caribou, reindeer and musk oxen; the omnivores snow buntings, arctic fox, grizzly bears, lemmings and salmon; and the carnivores wolverine, wolf, polar bear, ermine and snowy owl.
Alpine Tundra Food Chain
Like all food chains on Earth, a tundra food chain begins with a producer that can create organic molecules from inorganic molecules for chemical energy. One food chain in the alpine tundra of the Rocky Mountains in North America begins with dwarf clover, which uses energy from the sun to make sugars from carbon dioxide and water. A snowshoe hare, an herbivore and the primary consumer in the food chain, eats the clover, obtaining energy and nutrients, and then a lynx, a carnivore and the secondary consumer, eats the hare. Like any consumer in a food chain, however, the lynx receives only part of the energy the rabbit received from foods it consumed in its life, as some of that energy was used up in movement and growth or lost to the atmosphere as heat. When the lynx dies, scavenging ravens pick at the dead flesh, becoming tertiary consumers. Beetles, millipedes and other insects and decomposers, including fungi and bacteria, further break down the dead body to its inorganic nutrients, which can be used by new plants.
Arctic Tundra Food Chain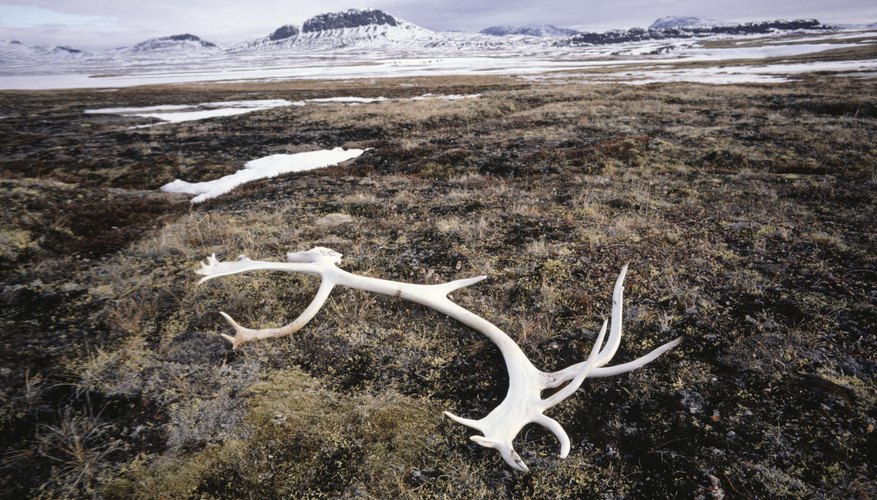 A typical Arctic tundra food chain in Alaska begins with lichen, which is both an alga -- a producer -- and a fungus -- a decomposer -- living symbiotically. Lichen can live on bare rock in the tundra and slowly break it down to soil. A caribou, a primary consumer, eats the lichen and later dies. A brown or grizzly bear -- an omnivore -- stumbles upon the dead body and consumes it, becoming both a scavenger and secondary consumer. Parasitic tapeworms in the bear act as tertiary consumers, gaining energy from the bear even while it lives. Meanwhile, tundra voles, arctic ground squirrels and other rodents might nibble away the antlers and bones of the caribou to get its minerals, while insects, fungi and bacteria further break down and slowly decompose the carcass. These decomposers will also consume the remains of the grizzly after it dies, getting its last bits of chemical energy and passing on precious nutrients to the tundra soil.