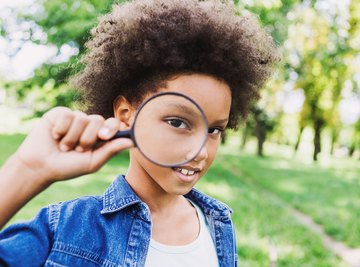 •••
Poike/iStock/GettyImages
​Sciencing may earn compensation through affiliate links in this article.​
Forensic science combines chemistry and biology to help police piece together the details of what happened and solve crimes. While you might initially think forensics is only about fingerprinting, there are many other science kit options out there that go into much more detail and introduce more complicated forensic concepts to your kids. Get started with these kits made for your soon-to-be-expert, little crime scene investigator.
Scientific Explorer Crime Catchers Science Kit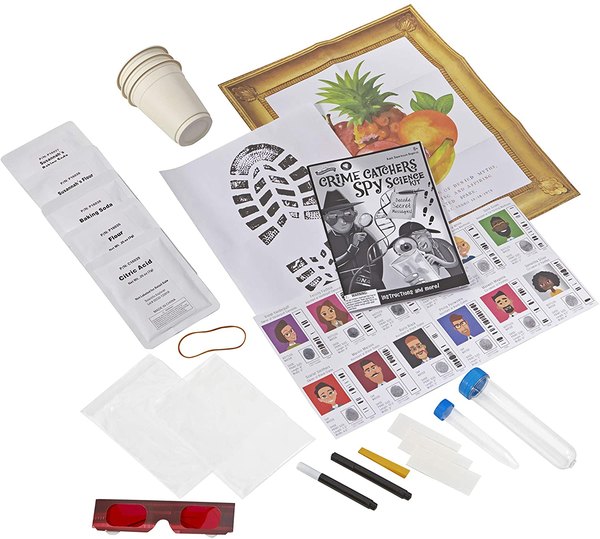 •••
Scientific Explorer (via Amazon)
The Crime Catchers Science Kit aims to introduce children aged 8 and over to the basics of crime scene investigation through eight activities spread across two mysteries. The kit comes with baking soda, citric acid, pH strips, coffee filters, cups, markers, decoder glasses, a graduated cylinder, test tube and more, as well as a detailed activity guide to lead kids through the activities and mysteries.
The activities are simple enough for a child to do, but give a taste of what real investigators do with evidence from a crime scene, including matching fingerprints, DNA analysis, testing powders and liquids (using the pH strips to distinguish between acidic and basic substances), decoding secret messages and more.
My First Lab Whodunnit? Detective Spy Scope
The Whodunnit? Detective Spy Scope is built around a real microscope offering up to a maximum of 400× magnification and with an LED lighting system to allow you to illuminate specimens from either above (better for solid samples) or below (for materials inside slides). The microscope is the main draw of the kit, but it comes with tons of accessories – including fiber samples, fingerprinting materials, pH paper, a petri dish, test tube and more – to use alongside the included experiments booklet to introduce kids to real forensic science style investigations.
The kit specifically teaches kids about fingerprints, blood spatter analysis, acids, writing and ink, hair and fiber analysis, fraud detection and more. The experiments booklet and included manual for the microscope gives kids aged 11 or over all of the information they need to get going, but the microscope in particular can be useful for many investigations beyond those included.
Innovating Science Blood Spatter Kit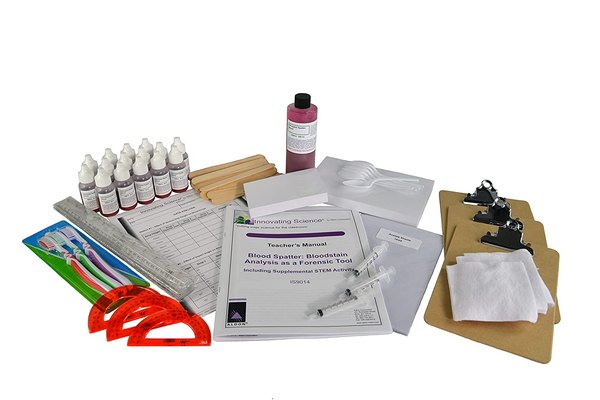 •••
Innovating Science (via Amazon)
The Blood Spatter Kit from Innovating Science is only for sale as a classroom kit for up to 15 students, but it offers a deep-dive look at blood spatter analysis and is a great option for a forensic science kit if you want a more focused lesson than many other options. The kit specifically teaches kids how to determine impact velocity, falling height and angle of incidence from blood stains, looking at additional factors such as the general pattern and the influence of the surface texture as well.
Innovating Science: Murder at Eagle Nest Harbor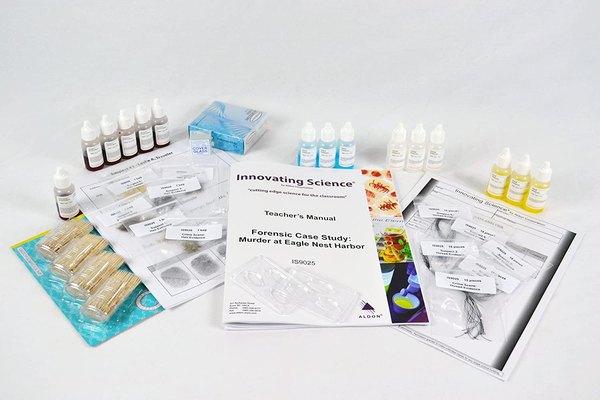 •••
Innovating Science (via Amazon)
The Murder at Eagle Nest Harbor kit is another science kit intended for use in a classroom and provides enough material for 15 students to complete the activity. It comes with simulated blood evidence (along with anti-serums for specific blood types), hair evidence, fibers, microscope slides and more, as well as a teacher's manual and a student guide that can be copied and distributed to the students. The kit is built around a murder mystery in a house boat community, and students will learn to analyze fingerprints, hair, blood, fiber and handwriting in the course of solving the mystery.
Crime Scene Science Kit: The Mystery of the Disappearing Diamonds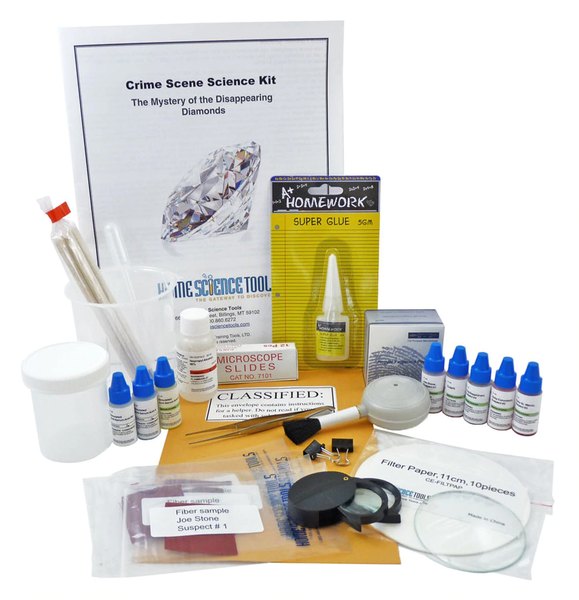 The Crime Scene Science Kit is intended for kids aged 11 and older, introducing some key concepts and methods in forensic science as kids try to find out which suspect stole the diamonds. The kit includes glass slides and superglue for fingerprinting, synthetic blood samples, a magnifying glass, a beaker, filter paper and isopropyl alcohol (for chromatography tests) and equipment for fiber analysis. The kit comes with a detailed activity manual guiding kids through the activities and helping them solve the mystery.
The kit contains enough equipment to go through the activities multiple times, or for a small group of kids to each go through the seven activities. It should take less than two hours to complete, but it's one of the best kits when it comes to giving kids an idea of what real crime scene investigation is like. For example, the kit allows kids to practice ink analysis using chromatography – far beyond what's possible with more basic kits.
Thames & Kosmos Master Detective Kit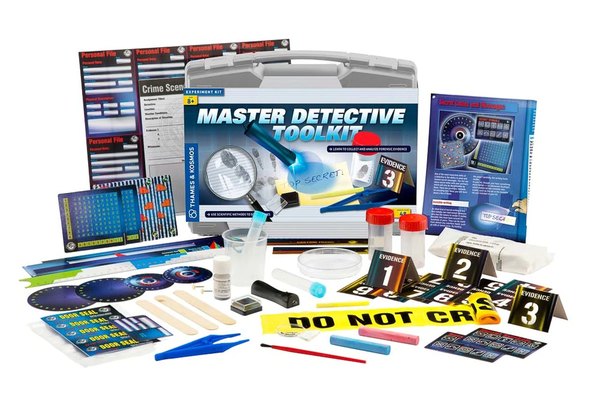 •••
Thames & Kosmos (via Home Science Tools)
The Master Detective Kit from Thames & Kosmos is one of the most popular forensic science kits, aimed at kids aged 8 and up. It comes with over 30 pieces of equipment, including fingerprint dust, barrier tape, a magnifying glass, plaster powder, canisters for evidence specimens and an ink pad, which you use for a total of 26 experiments. It comes with a 48 page manual which guides kids through the experiments with step-by-step instructions and diagrams in full color, as well as adding some background information to deepen their understanding of the concepts.
Following the guide and using the material in the science kit (as well as a few common household objects like a AAA battery, a pencil and string), kids will compare and investigate fingerprints, footprints, tire tracks, fibers, soil samples, identify counterfeit currency, decipher codes and more.
References
About the Author
Lee Johnson is a freelance writer and science enthusiast, with a passion for distilling complex concepts into simple, digestible language. He's written about science for several websites including eHow UK and WiseGeek, mainly covering physics and astronomy. He was also a science blogger for Elements Behavioral Health's blog network for five years. He studied physics at the Open University and graduated in 2018.