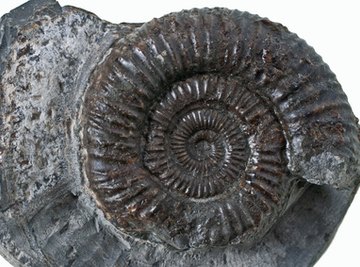 •••
fossile amotite (3) image by Claudio Calcagno from Fotolia.com
Across the state of Tennessee, experienced and novice fossil hunters will discover several sources of well-preserved plants, animals and other organic remains that tell the Volunteer State's ancient history. Once covered by the sea, Tennessee and its surrounding states are hotbeds rich with fossils of marine creatures and land dwellers from the area's past.
Cumberland Caverns
Ancient geological formations, large underground rooms and fossils galore are on display year round at Cumberland Caverns, Tennessee's largest show cave. Once a saltpeter mine and dubbed a National Natural Landmark by the United States, the series of underground caves showcases some of the most spectacular natural formations in America, including the grand Underground Ballroom. Spelunking and cave-crawling adventures allow you to witness the ancient formations and fossils that litter the area, but keep your souvenir shopping to the gift shop.
Gray Fossil Site
One of the largest active dig sites in the country, only 1 percent of the Gray Fossil Site has been explored to date, and the fossil recovery projection expects at least another 100 years of findings. Located in Eastern Tennessee, it was once a semi-circular sinkhole that harbored a pond-like environment over a long period of time, and now the Gray Fossil Site is yielding the remains of ancient plants and animals that lived, watered and died in the area. It is also known as the site that yielded the world's largest tapir fossil find, a new species of an ancient plant-eating badger and the most complete skeleton of an ancient rhinoceros, Teleoceras, found in North America.
Franklin & Surrounding Areas
Strolling along the Harpeth River and quarries throughout Williamson County, Tennessee, you will often come across fossils of gastropods, bryozoa and tribolites in the sand and limestone covering the region. The region is widely known for the discovery of well-preserved mammoth bones found near the Harpeth.
Nashville & Surrounding Areas
Rich fossil beds pepper the Nashville region and serve as an exciting excursion in the great outdoors for novice bone collectors and seasoned paleontologists alike. Even without any digging equipment, fossil lovers will come across excellent specimens of coral, animal bones, plant remains and even evidence of an extinction event. Popular sites include the Curdsville Bed, Lebanon Pike and the Bigby Formation, which is the best place in town to pick up fossilized snails, mollusks and other brachiopods.
Parsons & Surrounding Areas
South of Parsons, fossil hunters can easily find loose specimens in the sparsely vegetated "glade" exposures, while north of town excavators will come across several fossils in the loose limestone. Well-preserved corals, sponges and brachiopods are all evidence of Tennessee's oceanic past, and the Vulcan Materials Company Quarry is an excellent site to find pristine specimens.
References
About the Author
Melissa Sherrard acquired her Bachelor of Science in public relations from the University of Florida in 2007 and has been writing professionally ever since. She also has extensive hands-on experience planning weddings and other private functions. She has created original print materials including announcements, invitations and programs for weddings, corporate events and private functions.
Photo Credits
fossile amotite (3) image by Claudio Calcagno from Fotolia.com