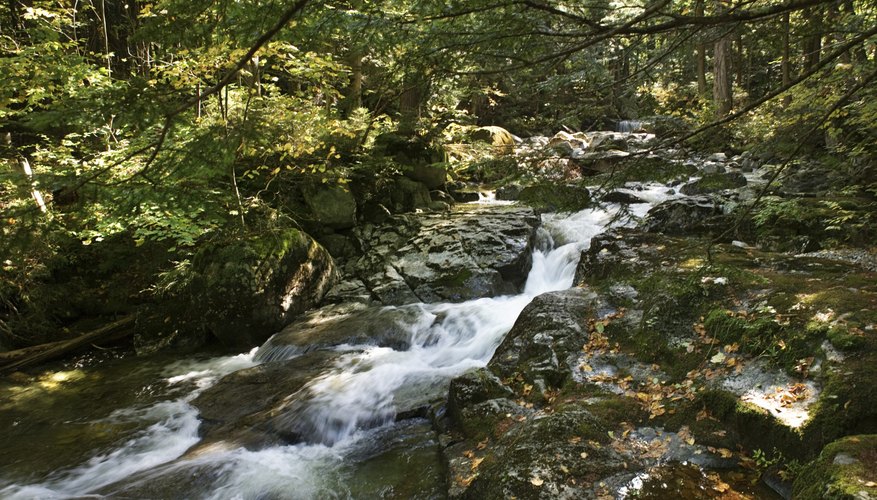 Thinkstock/Comstock/Getty Images
Every ecosystem is a complex web of the physical environment and different biological communities. In freshwater streams, the "abiotic" or non-living components include water, sediment and the surrounding chemistry. The biotic or biological components encompass all manner of life found in and around the stream, from fish to fungi.
Abiotic Components
Among the abiotic components that make up a freshwater stream ecosystem are the temperature, amount of precipitation, geology, soil, and even sunlight. Water chemistry also plays a big role within an ecosystem -- acidity and clarity are important abiotic characteristics of freshwater streams -- as well as the amount of sodium, sulfates, phosphates and other compounds in the water. Taken together, these abiotic factors determine what species can live and thrive in a freshwater stream.
Autotrophs
Within the biotic components of an ecosystem are the autotrophs -- organisms that can directly harness the energy of inorganic substances, like plants that capture the sun's energy through photosynthesis. Plants in a freshwater ecosystem range from trees that provide shade along stream banks to aquatic plants that provide food for insects and habitat for fish. The roots of trees and shrubs along the banks help prevent erosion, and even dead and decaying plant matter continues to provide food and habitat for many animals.
Heterotrophs
Freshwater heterotrophs -- organisms that must consume other organisms for energy -- include numerous species of fish, crayfish and eels. Turtles, salamanders, snakes, lizards and many other reptiles and amphibians are also important biotic components of the freshwater ecosystem. Many of these animals depend on plant life for food and shelter, and their life cycles are intertwined with their physical environment. Some salamanders, for example, return to the same freshwater pools year after year to spawn.
Other Biotic Components
Detritivores are a group of organisms that consume debris, such as decaying leaves or dead animals. Most aquatic insects are detritivores, including mayfly and dragonfly larvae that feed on the stream bed before molting into winged adults to mate. Filter feeders like freshwater mussels keep streams clean and clear by filtering nutrients out of the water. Additionally, non-native or invasive species like zebra mussels and Eurasian milfoil can infiltrate a stream's ecosystem and upset native food chains and biodiversity.