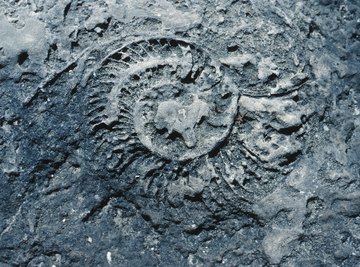 •••
Hemera Technologies/Photos.com/Getty Images
Fossilization is normally a lengthy process during which only the hard parts of plants and animals survive. However, in certain parts of the world, where the temperature has remained extremely low for millions of years, so-called "frozen fossils"--entire animals complete with skin, hair and soft body tissues--are found from time to time.
Preservation
Frozen fossils are only formed in special circumstances, so they are rare and usually date back to the Ice Age, but no further. Frozen fossils usually occur when an animal becomes trapped in some way--in mud, tar, a crevasse or a pit--and the temperature drops rapidly, effectively "flash freezing" the animal.
Types of Frozen Fossil
The most famous fossils have been woolly mammoths and woolly rhinoceros. In Antarctica, giant penguins, over 6 feet high, have been discovered frozen in the pack ice.
Scientific Importance
Frozen fossils can provide scientists with detailed information about the plants and animals that once inhabited the earth. They can also give clues to how the continents of the earth have moved, or "drifted", over millions of years. In Antarctica, where there are now no trees, frozen fossils of tree trunks 3 feet across have been discovered.
References
"Popular Science"; Various Authors; 1982
About the Author
A full-time writer since 2006, David Dunning is a professional freelancer specializing in creative non-fiction. His work has appeared in "Golf Monthly," "Celtic Heritage," "Best of British" and numerous other magazines, as well as in the book "Defining Moments in History." Dunning has a Master of Science in computer science from the University of Kent.
Photo Credits
Hemera Technologies/Photos.com/Getty Images