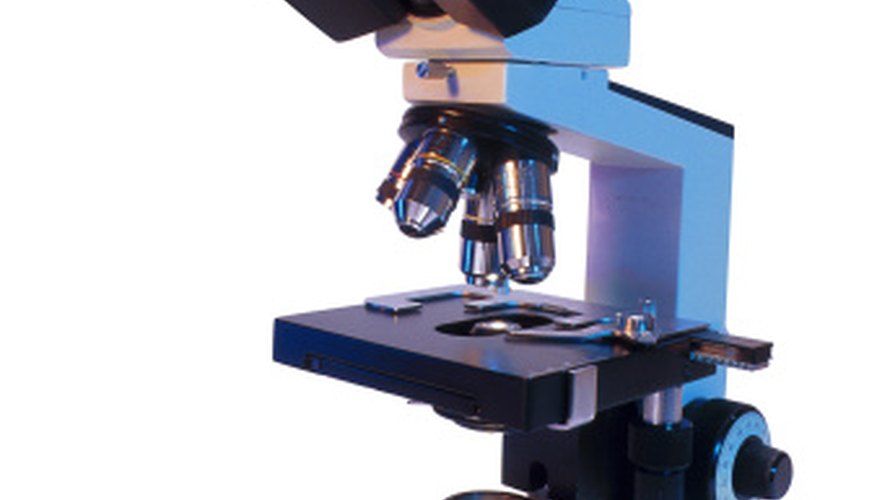 Comstock/Comstock/Getty Images
In a compound light microscope, light is concentrated in the condenser and focused through the specimen to the objective lens, where it is funneled to the eyepiece for viewing. While the objective lens is the determining factor in how much the image is magnified, viewing at higher magnifications is not possible without an adequate condenser.
Function of the Condenser
Microscopes have either a mirror or a light source mounted on the underside shining up towards the specimen. A condenser focuses this light through the specimen, drastically sharpening the image and allowing the microscope to maintain a clear image at higher resolutions.
Microscopes Without Condensers
Condenser lenses are most useful when viewing at high magnifications of 400X and above. If a microscope maximum magnification is much lower than this, it may not have a condenser. Some microscope mirrors are concave lenses, designed to focus light onto the specimen without a condenser at very low magnifications.
Specialized Condensers
The standard condenser used today is called the Abbe condenser. There are two major varieties of specialized condensers that represent improvements to the Abbe condenser. The first is the aplanatic condenser, which corrects for spherical aberrations. Spherical aberrations reduce the ability of a condenser to focus all the light onto a specific point. The achromatic condenser corrects for chromatic aberrations. Chromatic aberrations prevent a condenser from focusing different wavelengths of light onto the same point.
Condensers in Electron Microscopes
Electron microscopes also have condensers similar to light microscopes. These condensers focus electron beams through the specimen. Condensers are a part of all transmission and scanning electron microscopes.