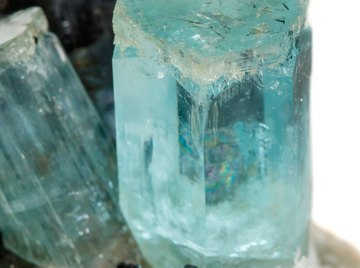 •••
Minakryn Ruslan/iStock/GettyImages
The state of Colorado is vast and contains a wildly varying geology and topography. Steep mountains, canyons, plains and rivers running throughout make for a fascinating location to look for gemstones. The Centennial State houses many kinds of gemstones of varying value, some of which are accessible to rockhounds, provided they obey laws about private properties. Colorado also displays special gemstones in several museums.
TL;DR (Too Long; Didn't Read)
Colorado has many kinds of gemstones. From aquamarine, quartz, amazonite, diamonds, gold and fossils, there is something to please every gemstone aficionado. Some gems can be mined from the ground with permits, while fine specimens can be viewed in museums.
Colorado Gemstone Facts
The state gemstone of Colorado is aquamarine. This is a pale, blue-green form of the mineral beryl, which comes in a few colors. The dark green variant of beryl is known as emerald when it's of gem quality.
Aquamarines are some of the most beautiful crystals found in Colorado, and they are sought after by gem enthusiasts. There are abundant sources for this cool-hued gem in the state. Aquamarines are also known as the birthstone for March.
Rhodochrosite is the state mineral, with a splendid dark red color.
Examples of Colorado Gems
Colorado boasts some of the most beautiful crystals and gemstones in the world. Plentiful minerals like quartz, in all ranges of colors from smoky to rose to purple amethyst can be found in the state. Amazonite, with its splendid blue-green color, can often be found with black quartz near Pike's Peak.
Other Colorado crystals and gems include phenakite, feldspar, mica, black tourmaline, agate, topaz, fluorite, sphalerite, pyrite, garnet, jasper, peridot, sapphire, turquoise and even diamonds. Liebigite is a fascinating gemstone found in Colorado that glows green under ultraviolet light.
Gold and silver deposits have also been unearthed in Colorado. Fossils and petrified wood are two other interesting, collectible finds.
Where to Find Colorado Gems in Nature
Many of the gemstones found in Colorado are in relatively accessible areas, whereas others are in more difficult terrain. Still others reside on private property and cannot be collected, as it is illegal to do so. Read prospecting laws before you search for gemstones.
Minerals like quartz, phenakite and aquamarine are present in central Colorado's Mount Antero. In this area, a pegmatite belt with veins of rocks contains some rare gemstones. Bear in mind that the Mount Antero summit, where many of the most beautiful crystals hail from, is over 14,000 feet high. Gem-quality topaz can be found in the Tarryall Mountains of Colorado. While normally yellow, topaz comes in other colors, and the prevalent color in Colorado is light blue.
Gold was discovered in Colorado's South Platte River in the 19th century. Near the town of Fairplay, you can pan for placer gold with a permit. In the Florissant Fossil Quarry west of Colorado Springs, shale deposits contain over 1,700 species of flora and fauna fossilized approximately 34 million years ago in a former lake bottom. Golden Gate Canyon, closer to Denver, tantalizes with black tourmaline and feldspar deposits.
Colorado Gems in Museums
Gemstones found in Colorado are present not only in the ground, but also in museums, which provide safe environments to view some of the most beautiful crystals and specimens. The National Mining Hall of Fame is one such resource, which emphasizes the mining history of the state. The Geology Museum at the Colorado School of Mines is another museum in Golden, Colorado, complete with two floors of gemstones found in Colorado - minerals like quartz and other unique rocks, and even meteorites.
The Denver Museum of Nature and Science is home to the Coors Mineral Hall. This museum displays aquamarine from Mount Antero and vibrant red rhodochrosite gems. The largest known rhodochrosite crystal resides here, dubbed "Alma King." This museum also houses "Tom's Baby," an immense, eight pound gold nugget found in Colorado.
Gem and mineral shows also prove to be great resources for gemstone lovers. Some examples include the Denver Gem and Mineral Show and the Denver Coliseum Mineral, Fossil and Gem Show. Whatever your gemstone fancy, you will find much to enjoy in Colorado, whether in nature or in a museum or show.
References
About the Author
J. Dianne Dotson is a science writer with a degree in zoology/ecology and evolutionary biology. She spent nine years working in laboratory and clinical research. A lifelong writer, Dianne is also a content manager and science fiction and fantasy novelist. Dianne features science as well as writing topics on her website, jdiannedotson.com.