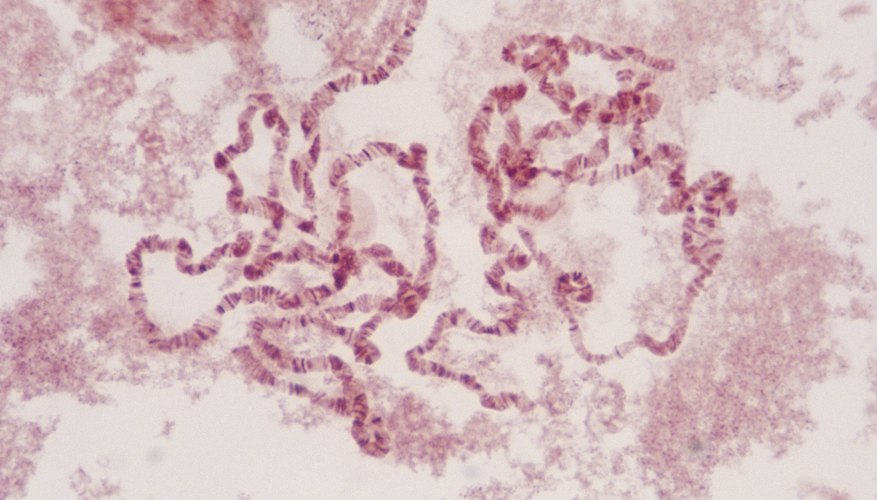 Comstock Images/Stockbyte/Getty Images
The color of your hair, your height and the pitch of your voice are all traits that you inherit from your parents. However, the environment can also influence individual characteristics. The features that others can notice are a combination of heredity and your development. Your genetic information is your genotype, while phenotype refers to your observable features. These two distinctions are interconnected.
A Short Cut
Understanding genotype means going down the long road of heredity. DNA molecules contain all the genetic instructions you need for development. A gene contains a segment of DNA. Since you get half your genetic information from each parent, you have two versions of every gene. These are called "alleles." They may be identical, or they may differ. For instance, you may inherit one allele for type A blood and another for type B. Genes are arranged on chromosomes. Humans have 23 pairs of these; half come from each parent.
It's in the Genes
Genotype has a lot to do with how you look. The term can refer to all your genetic information, or just the instructions for one gene. Some alleles will always show up in the phenotype because they dominate others. Traits that are recessive will not appear unless you have two of those alleles. Not all traits are so simple. With partial dominance, two different alleles create a phenotype that is in-between. With codominance, both alleles appear in the phenotype.
In the Real World
In humans, sometimes genes interact to determine a trait. However, a few characteristics seem dependent upon individual genes. For instance, freckles are a dominant trait. Genotypes are indicated with letters, using capital letters for dominant traits and lower case for recessive. Therefore, if you got the freckle allele from both parents, the trait is "homozygous" and is written "FF." If you received one freckle allele and one non-freckle allele, that mixed genotype, "heterozygous," would be "Ff." In either case your phenotype is "freckled." However, if both parents gave you identical non-freckle alleles, your homozygous genotype would be "ff," and you would be spotless.
Outside Influences
For individual humans, phenotype describes their characteristics. For example, someone with the "Ff" or "FF" genotype has a "freckled" phenotype. A person with the "AA" genotype for blood has the phenotype "blood type A." The environment can affect phenotypes throughout a person's life, starting with development in the uterus. Many human traits, such as height, are impacted by environment. For example, well-fed people could achieve the full height dictated by their genes, while undernourished individuals might not. Hair color might be extra blond because of significant exposure to sunlight.