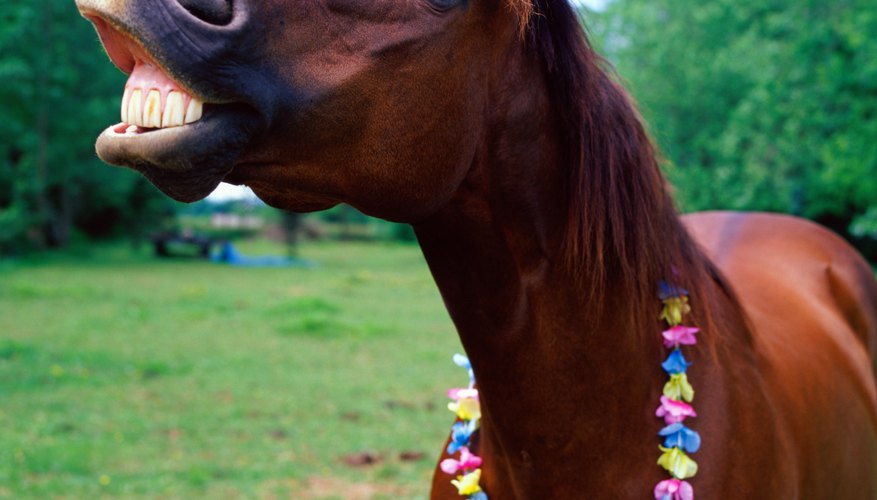 Digital Vision/Digital Vision/Getty Images
The roan color is a rich tinge -- bluish, reddish or bay color -- thickly infused with white or gray hairs, found in livestock. Although the specific mutation that creates roan color is not known, the genotype for roan is easily determined: It's designated as "RR'," a product of cross-breeding that specifically produces the roan color.
How Crossing Determines Genotype
Crossbreeding occurs when you cross two animals with differing chromosomes, designated by a letter of the alphabet to signify their genetic code and coloring, in this case "R." This crossing unites two reproductive cells called gametes to form a fertilized egg, also called a zygote. The zygote accounts for the animal's characteristics, including coloring. Every animal has DNA chromosomes, passed parent to offspring, called alleles. An allele is what is denoted by the alphabet code. A solid black horse with two solid black parents would be an RR allele, and RR would be its genotype.
Varied Colors and Crossbreeding
Roaning -- the blending of colors with white hairs -- occurs if the horse has an allele called R'. The locus, or origin point, of R' is found in wild horses, which at one time bred with domesticated -- R allele -- animals. R allele, in terms of color, is a solid color; R' allele is unpigmented color, which looks gray. A horse with genotype RR' will have coloring that is both pigmented and unpigmented -- in other words, roan.