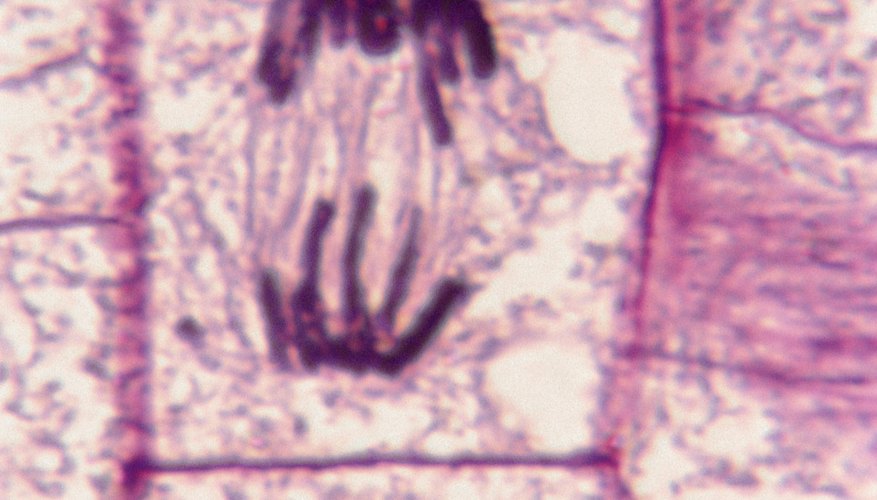 Jupiterimages/liquidlibrary/Getty Images
The cell is the fundamental functional unit that drives the biological activity of everything from bacteria and fungi to blue whales and towering redwood trees. These dynamic, complex, yet microscopic structures accomplish the growth and regeneration of multicellular organisms through mitosis, a remarkable process that transforms one cell into two cells.
The Right Definition
The fundamental goal of mitosis depends upon the definition that you apply to this term. Mitosis is often discussed in a general way as a synonym for cell division. In this sense, mitosis is the process by which a cell reproduces to form a genetically identical "daughter" cell. The more technically accurate definition of mitosis is the process by which the nucleus replicates itself and divides into two nuclei with exact copies of genetic material.
A New Nucleus
Mitosis according to the more precise definition involves four primary stages: prophase, metaphase, anaphase and telophase. The first three phases are primarily concerned with separating and organizing chromosomes that were duplicated during interphase, which precedes mitosis. Chromosomes are long molecules that contain genetic information in the form of deoxyribonucleic acid, commonly known as DNA. During telophase, a new nucleus forms around each set of chromosomes, resulting in two genetically identical nuclei. Mitosis occurs first in the process of cell division because the new cell could not survive without a nucleus, which contains genetic information that is essential for managing cellular functions.
One Cell, Two Cells
Cell division begins with mitosis and finishes with cytokenesis, during which the cellular fluid, known as cytoplasm, divides to form two cells around the two nuclei formed during mitosis. In animal cells cytokenesis occurs as a constriction procedure that eventually pinches the single parent cell into two cells. In plant cells cytokenesis is accomplished by a cellular plate that forms along the center of the cell and eventually splits it into two cells.
No Nucleus, No Mitosis
The precise definition of mitosis as nuclear division rather than general cellular division helps to clarify an important point--mitosis only applies to eukaryotic cells. All cells fall into two general categories: prokaryotic and eukaryotic. Bacteria and special single-celled creatures known as archaea are prokaryotic cells, and organisms such plants, animals and fungi have eukaryotic cells. One of the defining differences between these two types of cells is the presence of a nucleus: eukaryotic cells have a distinct nucleus and prokaryotic cells do not. Consequently, mitosis cannot apply to prokaryotic cell division, which instead is referred to as binary fission.