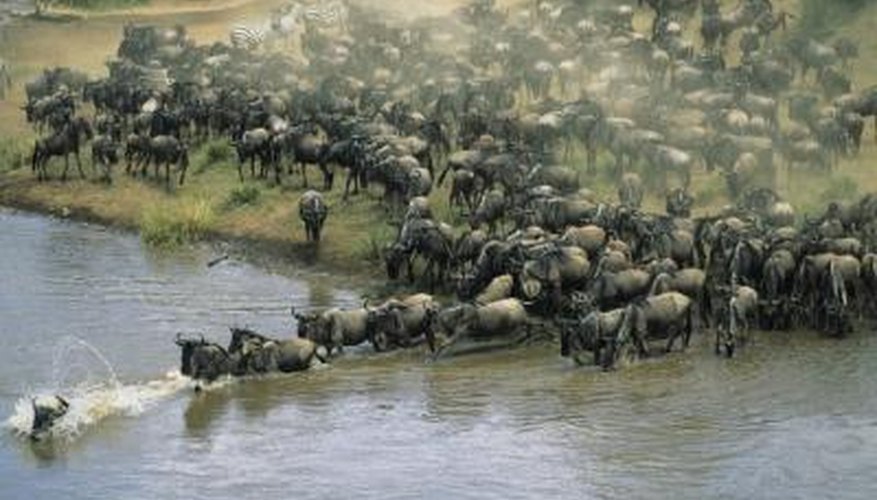 Anup Shah/Digital Vision/Getty Images
A biome is a biological community of the earth classified according to the predominant vegetation and characterized by adaptations of organisms to that particular environment. Grassland biomes cover one-fifth of the world's land. Although grass is the dominant vegetation in these biomes, these communities also include other plants. A wide diversity of animal species is found in these grasslands, as well.
Distribution
Grasslands are distributed across all the continents of the world except Antarctica. The grasslands in North America are called prairies. In Europe and Asia, they are called steppes, and in South America, they are the pampas. Grasslands in Africa are called veldts and savannas--together, they cover almost half of the continent.
Climate
Grassland biomes are found in temperate and tropical climates. The grasslands are usually dry regions where the annual precipitation is 10 to 30 inches (25 to 76 centimeters). The temperature varies according to the location of the grassland. Temperature in the prairies can be as low as -40 degrees Fahrenheit in winter and 100 degrees Fahrenheit in the summer. The savanna grasslands in Africa experience milder temperatures. The average monthly temperature in this region is 64 degrees Fahrenheit.
Flora
Savannas or tropical grasslands consist mainly of grass. Few trees and shrubs also grow here. Temperate grasslands have similar vegetation. However, trees here grow in smaller number. The prairies are home to different kinds of grasses such as tallgrass prairie, porcupine grass and little bluestem. The grasses have adapted themselves to survive the grassland environment.
Some plants, especially wildflowers, also grow in these grasslands. Trees, such as box elder, oaks and red bud trees, are found in the North American prairies. Palms, pines and acacias may grow sparsely in the tropical grasslands.
Fauna
A great variety of animals live in the grasslands. The African savannas have zebras, gazelles, elephants, giraffes, lions, cheetahs, hyenas and jackals. Bison, pronghorn antelope and elk graze in the prairie grasses. Many bird species, such as grasshopper sparrows, also thrive here. The Eurasian steppes are home to grass-eating rodents, coyotes, foxes, birds and reptiles. The pampas are home to geoffrey cats and viscachas.
Endangered Grasslands and Conservation
The existence of plants and animals in grasslands are being threatened by human activities, such as grazing and farming. As a result they are being classified as engendered species, such as kangaroo grass, blue-tongue lizard and the Mexican prairie dog. Conservation efforts can help in the preventing the grasslands from further destruction.