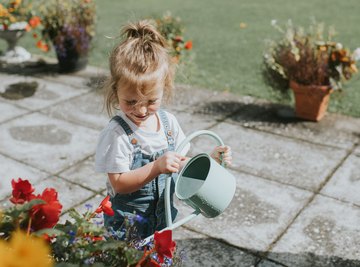 •••
Catherine Falls Commercial/ Getty Images
​Sciencing may earn compensation through affiliate links in this article.​
While the adults of today were likely introduced to life science with a simple activity like sprouting a bean in a piece of moistened cotton, nowadays there are tons more opportunities to get kids interested in plants in the form of DIY growing kits. The principles behind what happens may be the same, but with many options for a growing kit with multiple plants or even a full-blown mini garden kit, there are more ways than ever to encourage your kid to develop a green thumb. With quite a few terrarium kits, some more basic planting options and even kits that focus on cell structure, there is bound to be something right for your kid.
Creativity for Kids Grow n' Glow Terrarium Kit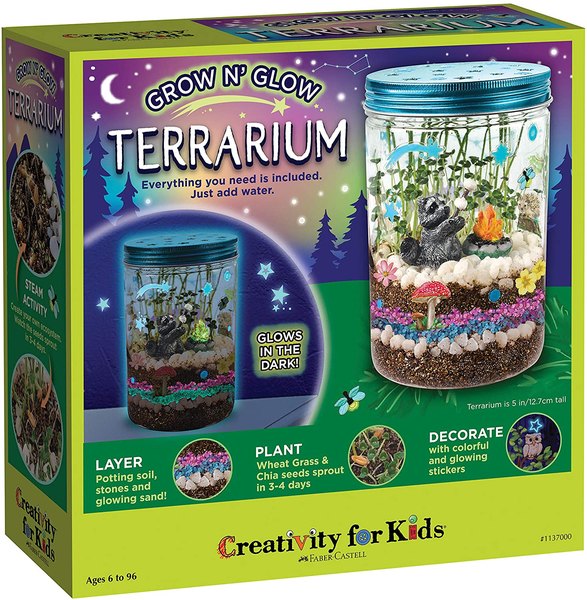 •••
Creativity for Kids (via Amazon)
The Grow n' Glow Terrarium Kit from Creativity for Kids is a simple kit that blends the basics of life science with some more artistic decorating activities, intended for kids aged 6 and up. It comes with a plastic jar (that looks like a mason jar) with a ventilated lid, potting soil, glowing sand, river stones, a plant mister (i.e. a spray bottle), chia and wheatgrass seeds, glow in the dark stickers, regular stickers and some glowing figurines.
The jar is basically ready-to-go right out of the box; your kid just has to add soil, sand, river stones, more soil, mist the soil, add the figurines and some seeds and then cover it with the lid. Aside from decorating the jar any way they like, then they just have to wait a few days for the seeds to sprout and grow. The kit contains enough seeds for a couple of growing cycles too, and of course you can buy extra seeds if that isn't enough. The only downside is that it doesn't come with a guide or any specific information on the science at play, but this is easy to encourage them to learn about or explain yourself as a parent.
Thames & Kosmos Botany Experimental Greenhouse Kit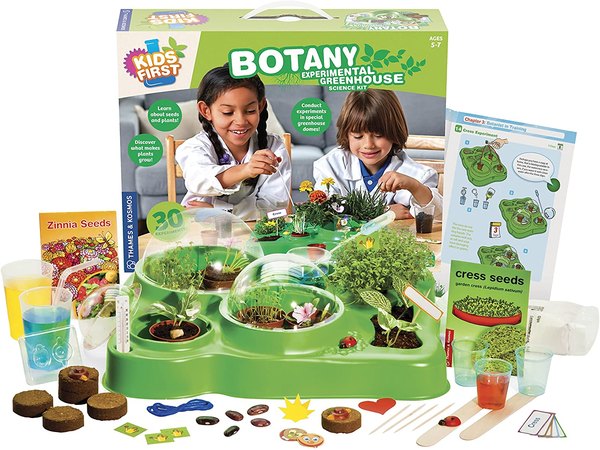 •••
Thames & Kosmos (via Amazon)
The Kids' First Botany Experimental Greenhouse Kit from Thames & Kosmos is a simple, affordable kit intended for kids aged 5-10 that introduces the basics of plant science through experiments and activities. The kit is built around a botanical laboratory, which comes with sections for different plants and little domed covers so you can make miniature greenhouses (with ventilation and thermometers), and you get seeds for beans, cress and zinnia flowers.
The kit comes with a 48-page manual, which leads kids through a total of 30 experiments, designed to teach the most important facts about botany. They cover topics such as capillary action in plants, how roots work, the importance of water, light and heat for growing plants, how cuttings can grow roots and many others. Through growing the different plants, kids will learn that different species have different growing needs, and they'll learn more about the science behind it all through both the experiments and the material in the manual.
Fame Master 4D Science Plant Cell Anatomy Model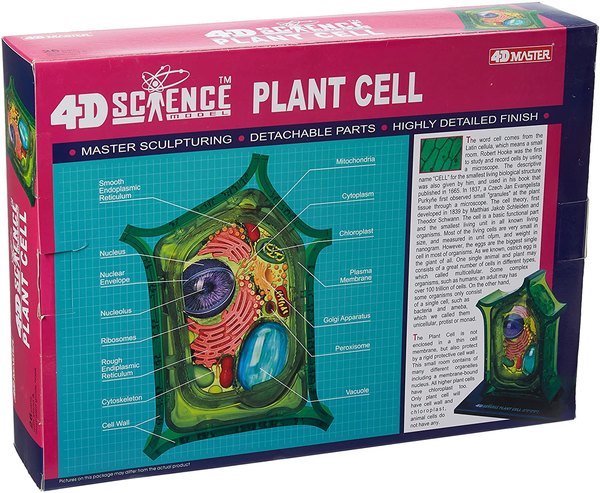 •••
Fame Master (via Amazon)
The Plant Cell Anatomy Model from Famemaster is a little different from the others on this list because it focuses on cell structure and biology rather than being a grow kit, but in terms of scientific content, it's a lot more detailed than many options out there. It's a 6-inch model with 24 parts and a display stand included as standard, with a recommended age of 8 and up. It comes with an illustrated guide, which both explains how to build the model and runs through the parts of the cell and their functions, including the nucleus, ribosomes, mitochondria, cell wall, vacuoles, plastids and others.
The guide also has Q&A sections, so your kid can test their understanding and help the lessons the kit teaches really sink in. While it isn't a hands-on experimental activity, there is a lot of potential for learning in the kit.
SmartLab Outdoor Science Lab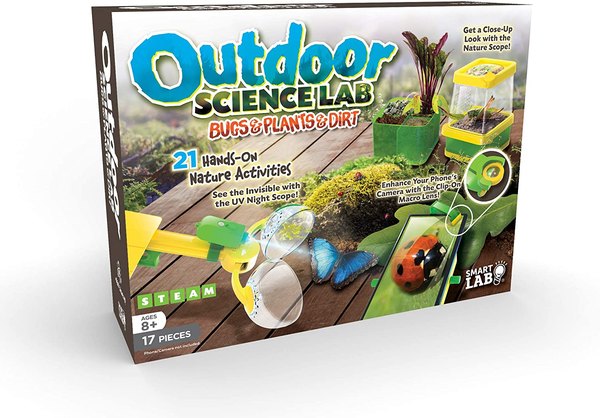 •••
SmartLab (via Amazon)
The Outdoor Science Lab from SmartLab doesn't explicitly focus on plants, but they're covered alongside related topics such as entomology (the study of insects) and geology. The kit has 17 pieces, including a bug catcher, macro lens with a clip (which attaches to any smartphone or tablet camera), a UV night scope, pH test strips, a beaker, two storage compartments ID charts and a 32 page activity book, which leads kids through the 21 activities included in the kit. The activities include collecting soil and rock samples, investigating plants and insects up close, testing the pH of soil and rainwater and much more.
The activity book contains the most important lessons in the kit and plenty of diagrams to help kids learn things like the parts of plants and insects, but the practical, hands-on focus of the activities will keep them interested. It's intended for kids aged 8 and up.
Be Amazing! Toys Big Bag of Backyard Science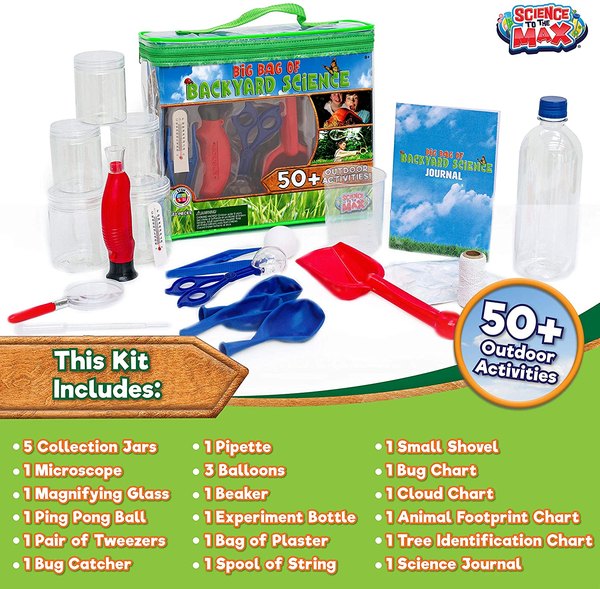 •••
Be Amazing! Toys (via Amazon)
The Big Bag of Backyard Science from Be Amazing! Toys is similar to the Outdoor Science Lab above in that the focus isn't explicitly on plant science, but kids will still learn about things such as germination through the 50-plus activities included in the kit. It comes with 32 pieces in total, including collection jars, a magnifying glass, pipette, tweezers, a bug catcher, a small shovel, charts for identifying bugs, trees, clouds and animal footprints and much more. The kit is intended for kids aged 8 and up.
The activities include identifying bugs, learning how seeds sprout (and making a terrarium), making an ant colony and many others. The included guide leads kids through the suggested activities, and they can all be completed with things in the kit and the nature right outside your door. This is one of the best options if you're looking for a broader garden kit than something specifically about botany.
About the Author
Lee Johnson is a freelance writer and science enthusiast, with a passion for distilling complex concepts into simple, digestible language. He's written about science for several websites including eHow UK and WiseGeek, mainly covering physics and astronomy. He was also a science blogger for Elements Behavioral Health's blog network for five years. He studied physics at the Open University and graduated in 2018.