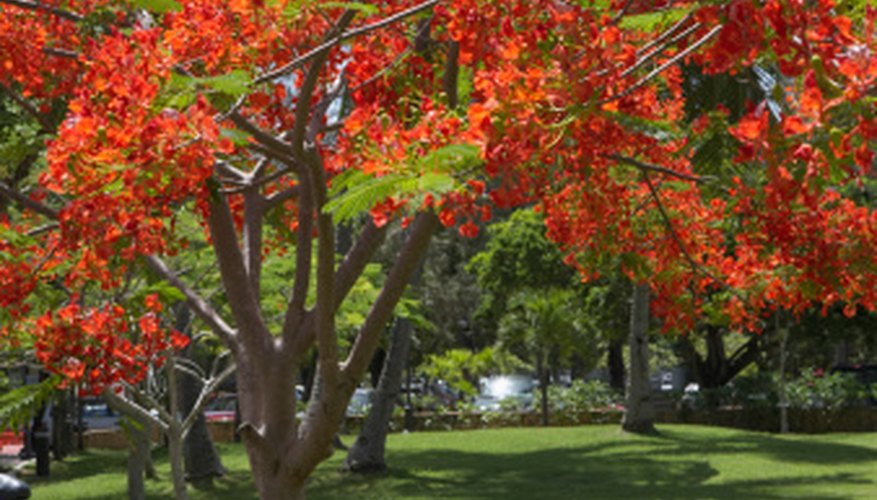 Jack Hollingsworth/Photodisc/Getty Images
Also called flametree or flamboyan, the royal poinciana (Delonix regia) is a tropical ornamental tree that produces bright red, orange or yellow flowers in winter. It has a fast growing rate, actively growing in all seasons at an average rate of 5 feet per year. Showing a broad canopy, an adult tree is about 40 to 52 feet tall, and its trunk measures about 23 inches in diameter.
Characteristics
Briefly deciduous in regions with a well-marked dry season, the royal poinciana has large flowers, with fast-growing petals that can reach 3 inches in length. Although it produces brown seedpods measuring up to 23 inches long and 2 inches wide, the seeds are very small. The leaves have a feather-like shape and are bright green.
Growing Requirements
Moist and fine textured limestone soils are ideal for the royal poinciana, but the tree can tolerate salty soils and drought conditions. Growing speed increases in areas where plant density is lower than 300 trees per acre and temperatures are higher than 50 degrees Fahrenheit. Growing rates are higher in trees exposed to direct sunlight, in areas of medium to lower altitudes and annual rainfall above 700 mm.
Root Growth and Germination
Although the growing rate of the tree's roots is also fast, royal poincianas have a shallow root system, reaching about 60 inches of depth in adults trees. Root growth decreases in soils with low oxygen availability and high acidity. After fully grown, flowers last for several weeks. Seed germination rates are higher within the first five years from collection. Flowering and fruiting often happen after three to five years from germination.
Growth Hormones
Royal poincianas and other trees from the family Leguminosae produce substances called phytohormones or growth hormones, which are involved in their development from germination to fruit formation. Phytohormones that play a key role in the growth of royal poincianas include auxins, responsible for cell enlargement; cytokinins, which trigger the formation of new shoots; and gibberellins, important during the germination process.