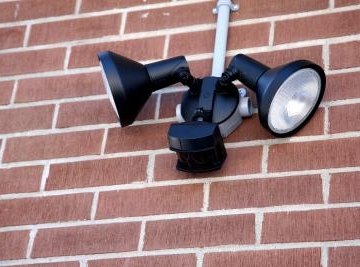 •••
Jupiterimages/Photos.com/Getty Images
Outdoor lighting enhances a home's exterior and acts like a guide to direct visitors down a pathway. Many lighting systems utilize photocell sensors to automatically activate lighting, but the photocell can malfunction at times requiring simple troubleshooting procedures.
Function
A photocell sensor is an electronic component, typically a resistor, that detects levels of light. As the sun sets, the photocell senses the light waning. As a result of less light, the photocell activates the lighting system.
Considerations
One common problem that affects photocell functioning is incorrect or loose wiring between the photocell and the main circuitry of the lighting system. The wire that connects the photocell to the lighting circuit needs to have a solid, soldered connection. In addition, the system needs to have proper electrical power. Verify that all connections are securely fastened to he power supply.
Identification
Over time, photocells can suffer from small cracks within their assembly. These cracks can result in intermittent lighting, or even no light activation at all. Inspect the photocell for any aberrations. If cracked, replacement is the only option.
References
About the Author
Writing professionally since 2010, Amy Rodriguez cultivates successful cacti, succulents, bulbs, carnivorous plants and orchids at home. With an electronics degree and more than 10 years of experience, she applies her love of gadgets to the gardening world as she continues her education through college classes and gardening activities.
Photo Credits
Jupiterimages/Photos.com/Getty Images