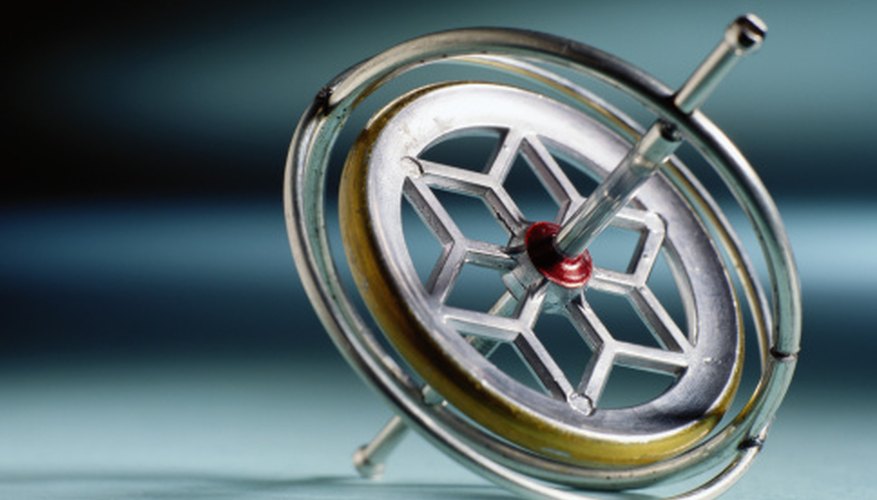 Ryan McVay/Photodisc/Getty Images
Anyone who has ever ridden a bicycle has experienced the power of a gyroscope. Simply put, a gyroscope is a spinning wheel held in a frame. Because of a principle known as the conservation of angular momentum, the spinning wheel resists changes in its orientation. This is why its easier to balance on a speeding bicycle than a bicycle that has stopped.
Stabilization
Since a spinning gyroscope will "fight back" against attempts to turn it, large gyroscopes can be placed inside things you want to keep upright. In effect, the gyroscope is connected to the object and so imparts its stability and helps keep the item from tipping over. Gyroscopes are used to stabilize large ships at sea as well as monorail trains. The inadvertent gyroscopic motion of their wheels also stabilizes vehicles such as motorcycles and enables them to lean into tight turns.
Compass
Gyroscopes are included in devices known as gyrocompasses. Rather than measuring changes in direction against the Earth's magnetic field as a normal compass does, these devices measure the relative change in direction against a fixed plane defined by a gyroscope. Gyrocompasses are used to measure relative changes in direction in boats and planes. They have the advantages of being unaffected by external magnetic fields and being able to find true north rather than magnetic north.
Electronics
Miniature gyroscopes are used to detect and measure the movement of some hand-held devices. Remote computer control devices use this concept to enable the user to move the computer cursor with a mouse held in the air rather than on a flat surface. Other examples include the Wii MotionPlus handheld controller and the iPhone 4.
Education and Assorted Other Uses
Small gyroscopes are used in educational settings to allow hands-on demonstrations of the principal of angular momentum. A spinning gyroscope can be made to balance on a string, for example, to show the degree of balance imparted by the spinning action. Gyroscopes are often sold as toys as well since their odd behavior can be fascinating to observe.