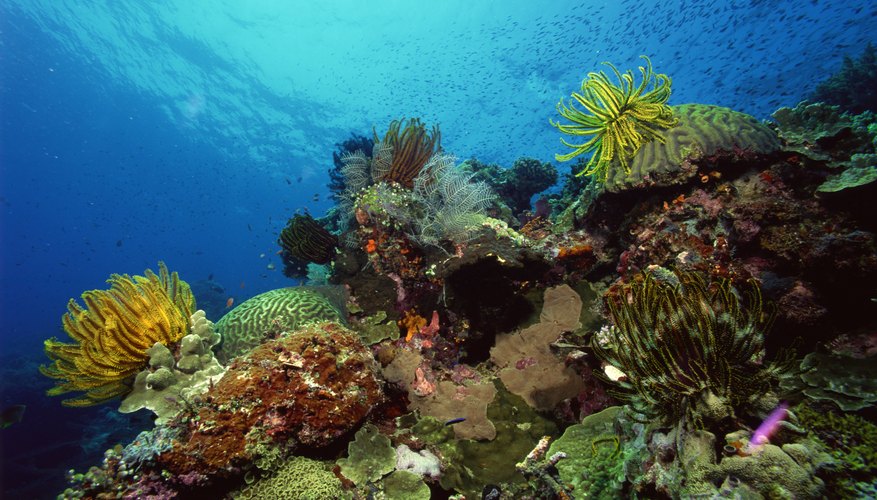 Part of the Crinoidea class, feather stars are marine invertebrates, and there are more than 500 species around the world. Also called comatulids, feather stars are free-living, unstalked animals that live near rocky bottoms in shallow water. Related to sea stars, feather stars usually have five to 10 feathery fringes, which they use for swimming. Some species have more than 100 arms. The number of arms differs among species.
Habitats
Although sea feathers are found in shallow-water marine habitats and near coral reefs around the world, they are more abundant in the Indian and Atlantic Oceans. Specific geographic distribution and depth range vary according to species. Antedon is a genus common in the Atlantic, while Tropiometra is abundant in the Pacific. Species of the genus Stephanometra are found in the Pacific, in waters shallower than 65 feet. The depth range of Antedon bifida is 15 feet to 650 feet, but the species can survive in waters deeper than 1,000 feet.
Reproduction and Life Cycle
Sea feathers have male and female individuals, producing ovules and sperm, which are release and fertilized in the water. After hatching, the barrel-shaped larvae of some species can attach themselves to the bottom surface through a stalk. During the last stage of their metamorphosis, sea feathers release their body from the stalk. After about 16 months, sea feather reach sexual maturity.
Feeding Habits
Sea feather are filter-feeders, using their arms to trap plankton and organic particles that float in the water. They use a layer of mucous that cover their arms to capture food and propel it towards their months, which are located on their dorsal side, nearby the anus. The digestive system of the sea feather is a tube that connects the mouth to the anus.
Size and Color
Different species of sea feathers can have distinct sizes, colors and number of arms. Antedon bifida is purple to pink and often have 20 arms, which measure 4 inches each. The deep red species Comaster multibrachiatus can have as many as 100 arms and have 10 inches of arm-span. Species of the genus Oxycomanthus can also have a number of arms above the average, showing a wide range of colors, from yellow to green.