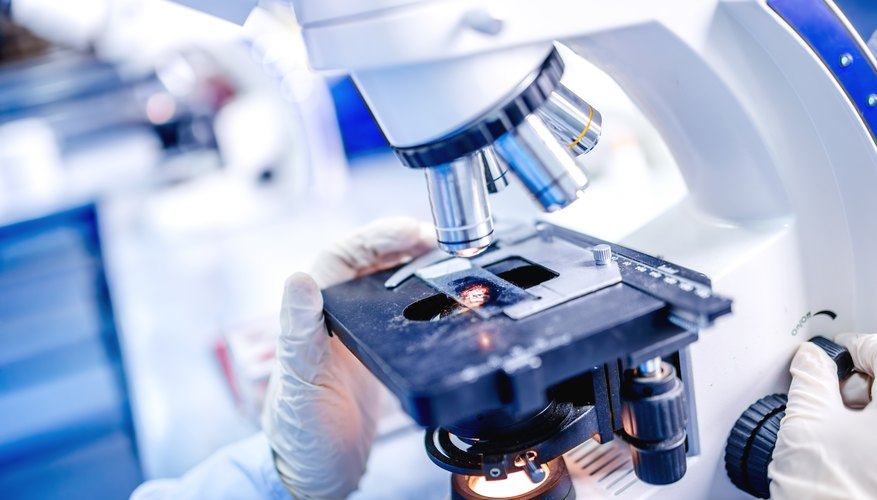 The balance between water and electrolytes controls cell integrity. Most of a cell's volume is composed of water, while electrolytes determine the action potential across cell membranes. Action potential is the shifting electrical charge that determines a cell's ability to regulate its fluid volume, exchange waste for fuel and respond to nerve impulses. Sodium is the most abundant electrolyte.
Sacks of Water
Cells are basically tiny, membrane-bound sacks of fluid. Most single-celled organisms live in fluid, while most cells in multicellular organisms exist awash in body fluids. Cells' function relies on their ability to regulate this fluid. Electrolytes are molecules that influence cell fluid regulation. Electrolyte concentration is called osmolarity, which means the amount of a solute, or dissolved substance, per unit of liquid. Sodium is the most abundant electrolyte within organisms, so it determines osmolarity.
Too Much
Sodium plays an important role in maintaining cell volume. There has to be enough both within and outside the cell to keep necessary fluid in and excess fluid out. Too much sodium in the surrounding body fluid -- or too little in the cells -- is called hypernatremia. In hypernatremia, the excess sodium in the body fluid sucks too much water out of the cells. These dehydrated cells and their organelles shrink, crushing vital internal machinery.
Too Little
Too little sodium in the surrounding fluid -- or too much within the cells -- is called hyponatremia. When excessive water increase causes hyponatremia, it's called euvolemia; when water and sodium levels both increase but water increases more, it's called hypervolemia. When loss of fluid and sodium results in a hyponatremic imbalance, it's called hypovolemic hyponatremia. Hyponatremic cells swell as their higher sodium concentration draws too much water in, which eventually causes cell and organelle membranes to burst, spilling the contents and killing the cell.
Broken Pump
The sodium-potassium pump is the constant exchange of electrical charge across cell membranes. It trades positively charged sodium ions for negatively charged potassium ones and allows the transfer of substances across cell membranes. The sodium-potassium pump also generates the electrical impulses necessary for nerve signals. Sodium imbalances interfere with this exchange and with the ability to receive and transmit signals. If the interference is great enough or lasts long enough, the sodium imbalance will paralyze the cells' transport and communication systems and kill the organism.