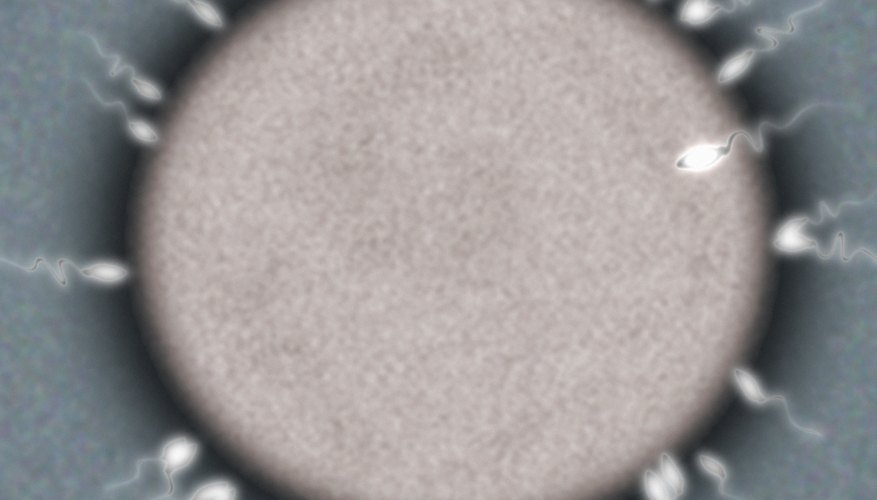 Chad Baker/Photodisc/Getty Images
Fertilization is the way sexually reproducing organisms combine portions of their own genetic information to produce genetically unique offspring. During fertilization two haploid gametes, one from each genetic parent, fuse to create a single diploid zygote. At the chromosomal level fertilization involves several steps in the transition from two cells to one.
Invade and Blockade
The first step in fertilization is the penetration of a haploid oocyte by a haploid spermatozoon. Entry of the sperm causes the oocyte to release compounds that change its cell membrane, preventing penetration by any more sperm. This conserves the chromosome number inside the newly fertilized egg so that, under normal circumstances, the new zygote will only have two copies of each chromosome, one from each parent. These same compounds signal the oocyte to complete meiosis and become a true ovum.
Initiation
Meiosis is how sexually reproducing organisms produce haploid gametes, sex cells that contain only half of their species' genetic complement. It involves one DNA replication followed by two cell divisions. In the absence of sperm, oocytes freeze at metaphase 2, about halfway through their second division. The fertilized egg first completes meiosis before becoming a zygote. It keeps half its chromatids and throws the other half away in the form of a small, inert polar body. While it's doing this, the sperm's chromosome-containing nucleus leaves its tailed envelope to float freely into the ovum's cytoplasm.
Integration
The sperm's liberated nucleus decondenses, releasing its chromosomes. The egg now contains two sets of haploid chromosomes called pronuclei, "pro" meaning "before" because they exist before the fertilized egg forms its new, individual nucleus. Each pronucleus begins to copy its own DNA before the sperm and ovum chromosomes actually join together.
Division
The newly replicated maternal and paternal chromosomes now come together in the fertilized egg's center and line up to form a single metaphase plate. This is the set of chromosomes that will form the nucleus in each of the new embryo's future body cells. The fertilized egg performs its first mitotic division. Each of the two new daughter cells contains the full species' genome and the entire genotype of the new individual, with half it's chromosomes inherited from each genetic parent.