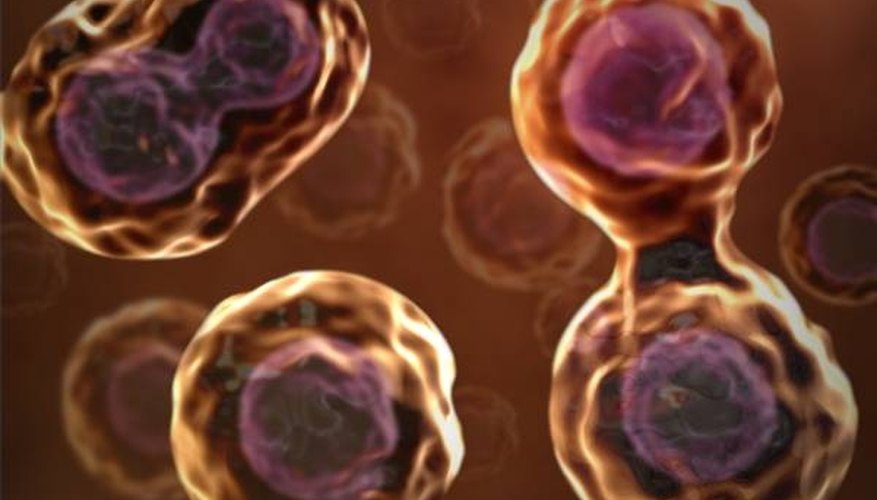 Cell division requires energy, from mesoblast.com
Glycolysis
The process by which glucose is broken down in animal cells to pyruvate and energy is called glycolysis. The energy released in the conversion allows cells to make adenosine triphosphate (ATP) and reduced nicotinamide adenine dinucleotide (NADH), which can transport the energy anywhere it is needed. Enzymes then break down the ATP or NADH to provide energy to specific parts of the cell. The whole process involves about ten different chemical reactions. In the first half of the reactions, energy is used, but by the end of the process, the lost energy is replaced and doubled.
Phosphorylation
The first thing a cell does with the glucose when it enters is to prevent it from leaking back out through the cell membrane. The process is called phosphorylation, and it just involves a hexokinase enzyme converting the glucose to glucose 6-phosphate and then converting that into fructose 6-phosphate with the enzyme glucose phosphate isomerase.
Conslidation
A consolidating process takes place next. With the introduction of the enzymes phosphofructokinase 1 and pyrophosphate dependent phosphofructokinase, the fructose 6-phosphate is converted to Fructose 1,6-bisphosphate. Because this reaction happens so easily in the cell, it is difficult for the process to reverse. It is like a pumping station; it keeps the glycolysis process moving forward.
Splitting
With the introduction of the enzyme aldolase, the fructose 1,6-bisphosphate is split into two triose sugars, glyceraldehyde 3-phosphate and dihydroxyacetone phosphate. Because the sugars are needed in different quantities at times, cells produce an enzyme, triosephosphate isomerase, which allows cells to convert either one into the other.
Storing Energy Again
Most of the previous reactions require energy to take place. From this point on, the cell gains stored energy as ATP and NADH are created. Phosphate is added and hydrogen is released to convert the two sugars into 1,3-bisphosphoglycerate. The additional hydrogen released reduces nicotinamide adenine dinucleotine ions into NADH, and the 1,3-bisphosphoglycerate is reduced to 3-phosphoglycerate, liberating a phosphate ring to make ATP.
More Energy and Pyruvate
A three-step process converts the 3-phosphoglycerate into pyruvate. First, phosphoglycerate mutase makes 2-phosphoglycerate. Then, enolase makes phosphoenolpyruvate and releases water. Finally, the phosphoenolpyruvate is converted by the enzyme pyruvate kinase into pyruvate and free hydrogen, which converts adenosine diphosphate (ADP) released in the preparatory steps back into ATP.