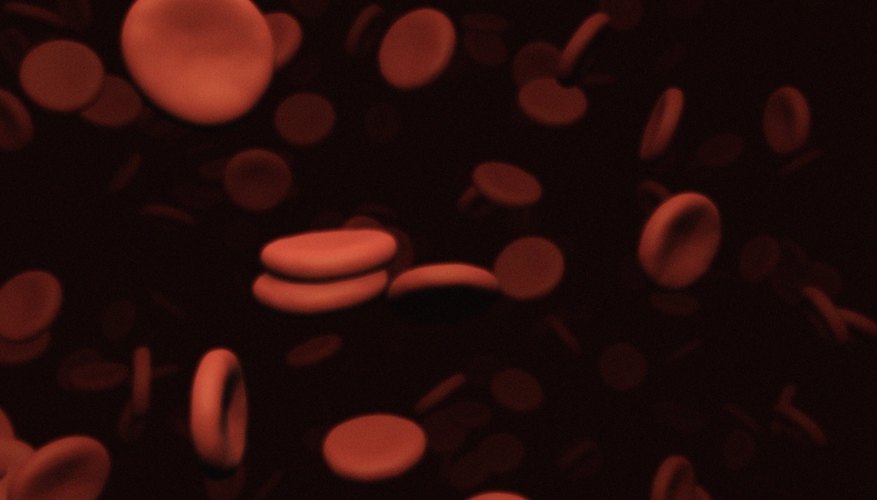 Chad Baker/Photodisc/Getty Images
Hemoglobin, the protein in red blood cells responsible for ferrying oxygen from the lungs to the body's tissues (and for carrying carbon dioxide in the opposite direction), is composed of four separate amino acid polypeptide chains, or globins. Hemoglobin's complexity provides an excellent example of the structural levels that determine the final shape of a protein.
Primary and Secondary: Linear Arrangements
A protein's primary structure refers to the order of its amino acid residues. Two of hemoglobin's polypeptide chains are similar to, but slightly different from, the other two: one pair has a crucial histidine at its 87th residue, while the other has this histidine at its 92nd residue. The secondary structure refers to the coiling or folding of the chains into regular patterns; in hemoglobin, each chain includes eight or nine alpha helices separated from each other by short non-helical sections.
Tertiary and Quaternary: The Third Dimension
The tertiary structure of a protein describes its three-dimensional structure, which arises from non-covalent interactions such as hydrogen bonding and van der Waals interactions among the residues. Each polypeptide in hemoglobin folds to create a pocket for a heme unit, which actually carries the oxygen and carbon dioxide. Finally, the four globin chains come together due to further non-covalent interactions to produce the quaternary structure of the complete hemoglobin protein.