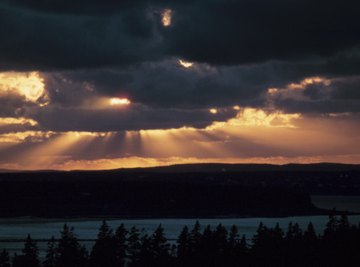 •••
Hemera Technologies/Photos.com/Getty Images
Tides are naturally occurring rises and falls in the level of water in oceans, bays, gulfs and inlets. They are the direct result of the moon's gravitational pull on earth. The moon's gravity creates two bulges in earth's oceans: one on the side facing the moon and a slightly weaker pull on the side of the earth facing away from the moon. These bulges cause high tides. Every location on earth experiences two high tides and two low tides every 24 hours and 50 minutes.
High Tides
The tidal bulges created by the moon result in high tide for the area facing the moon as well as for the area opposite the moon. The high tide on the side of earth facing the moon is typically stronger than the one on the side facing away from the moon, although how far up the beach the tide reaches depends on the contours of the shoreline and the time of year. The two high tides each area on earth experiences are approximately 12 hours and 25 minutes apart.
Low Tides
A region experiences a low tide when it is neither facing the moon nor facing away from it. During this time, the tidal bulges are occurring in different regions, which leads the ocean levels to recede in these regions. The severity of a low tide also depends on the contour of the shoreline and season. Low tides also occur every 12 hours and 25 minutes, which results in alternating high and low tides.
Spring Tides
The phase of the moon also has an effect on the severity of the tides. Around the new moon and full moon phases the sun, moon and earth are aligned. The sun's gravitational pull adds to the moon's gravity and results in higher high tides and lower low tides. These tides are referred to as spring tides.
Neap Tides
Conversely, neap tides occur during the first and third quarter phases of the moon. During these periods, the sun and moon are at 90-degree angles, and the sun's gravity cancels out a portion of the moon's gravitational pull. Since the moon' s pull is stronger, earth still experiences tides during these phases; they are just less extreme. High tides during neap tides are lower than high tides during spring tides, and low neap tides are higher than low spring tides.
References
About the Author
Jack Powell has been writing professionally since 2008. He graduated from Red River College with a degree in creative communications and currently writes for a variety of local publications.
Photo Credits
Hemera Technologies/Photos.com/Getty Images