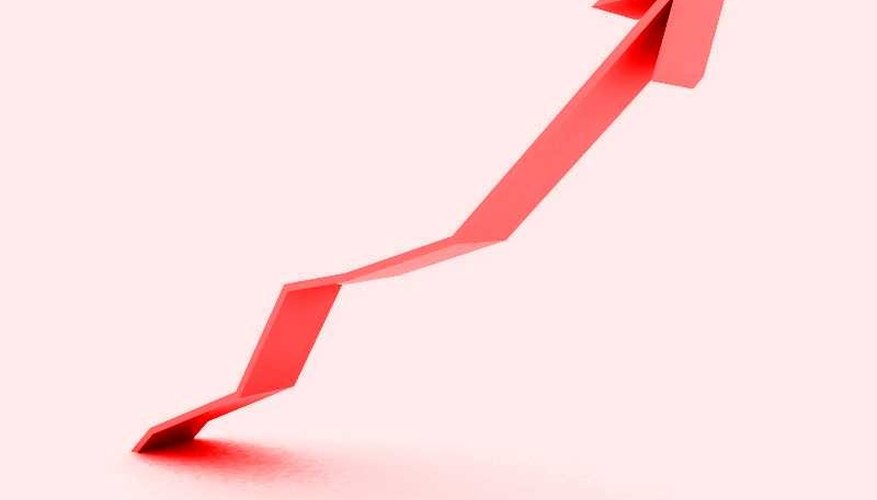 Illustration: Ivan Petrov, stock.xchng
Inflation is caused by increases in an economic condition that is caused by an increasing money supply or rapid increases in the cost of production. If a government prints too much currency, prices rise to meet the increasing supply of money. In production cost increase based inflation, increasing costs of production are passed on in a rising final price.
Price Increases
Inflation is defined as an increase in the average price of goods and services, not including wages, that goes uncompensated by increases in income. These price increases can either occur over time or be a sudden, one time event.
Purchasing Power Decrease
Increasing prices without a commensurate increase personal or business income means that the currency suffering from inflation has a lower purchasing power. Fewer goods and services are available for a given sum of money, thus making people and businesses financially poorer.
Increased Spending
In some cases, a fear of increasing prices may trigger people to spend more. This increased spending adds to inflationary problems because it increases demand on a limited supply of products and services, thus increasing prices.
Decreased Saving
Because people and businesses may be afraid that the value of money will continue to decrease and that prices will continue to rise, the increased spending during inflation results in a decreased savings rate.
Decreasing Bond Values
Bonds are usually issued at a fixed interest rate. If a bond is issued at 5.25 percent and the inflation rate, or loss of currency value, is 8 percent, the bond holder is, in fact, losing 2.75 percent per year by holding the bond. People and companies holding bonds as investments not only lose the purchasing power of the cash they hold, they could lose money on their previously safe investments.
Hoarding
Rapid increases in prices can sometimes result in hoarding of basic commodities. This is sometimes due to fear of price increases, but is also sometimes due to speculators who buy large quantities of basic commodities with the expectation that they will rise in price and value.
Hyperinflation
Hyperinflation is an economic condition where the inflation rate is over 100 percent. In fact, the inflation rate could be far higher. For example according to the Concise Encyclopedia of Economics, hyperinflation in Hungary between August 1945 and July 1946 averaged 19 percent per day, which makes for 19,000 percent per month. An item costing $1 on August 1, 1947 would cost $19 on August 2, 1947 and $19,000 on August 30, 1947.