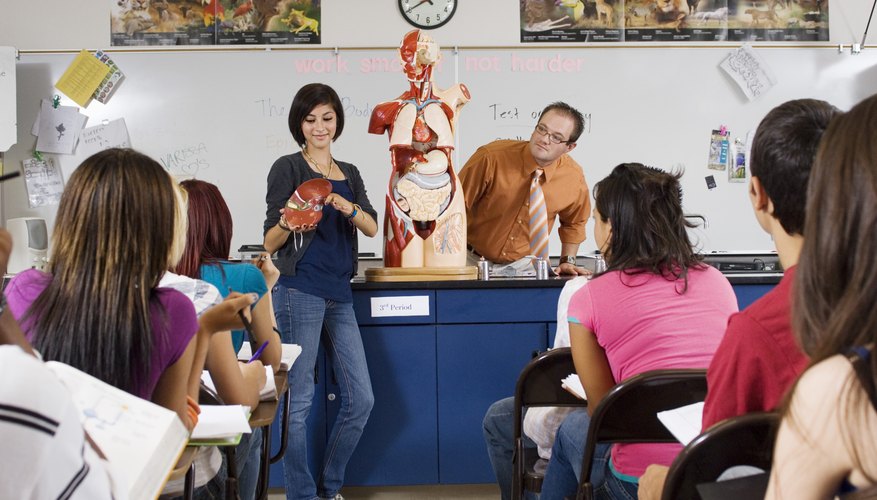 In high school, the subjects taught become more focused and precise than that in lower grades. For such subjects as biology, this entails delving into subjects that may be unfamiliar territory. As a parent, it may be helpful to become familiar with the coursework often taught in high school biology in case your child has questions or needs help with an assignment. Students can benefit from a glimpse at the topics taught in high school biology, as well.
Cell Biology
High school biology often begins with teaching students about the most fundamental elements of all life forms. Students learn the parts of a cell and their functions. They discover in-depth what the difference between plant and animal cells are and how to identify the two. Oftentimes, students perform a project in which they create a scaled-up model of a cell in order to label the parts of it. Then students learn how cells function within a plant or animal. This includes cellular respiration and plant-cell photosynthesis.
Genetics
High school biology often moves on to the topic of genetics. Genetics lessons allow students to understand how the studied cells work together. Students learn about DNA and RNA and study how traits are passed down from parent to offspring. This often includes learning about Gregor Mendel's pea plant experiment leading to the understanding of dominant and recessive traits. Students will use Punnett squares to observe the probability of certain genetic combinations.
Anatomy
Taking a step back to see the bigger picture, high school biology students learn about anatomy and how organs of the body work together. Plant anatomy consists of learning the various parts of a plant and the function of each. With animal biology, a hands-on lesson often comes into play. Many students participate in animal dissection. Animals used for dissection include insects, such as worms or grasshoppers; amphibians, such as frogs; and mammals, such as pigs. For human anatomy, models may be used. Lessons go into the various body systems in humans, such as the respiratory and digestive systems.
Ecology
Students learn about the environment and how life forms coexist in the ecology section. Lessons consist of food chains and food webs, including learning the place of humans within them. Several natural cycles are also introduced with ecology, such as water and carbon cycles. Students learn about the different biomes of the world and how biodiversity aids in the success of a biome. Learning about the atmosphere also comes up in the topic of ecology. Topics vary from the ozone layer to acid rain.