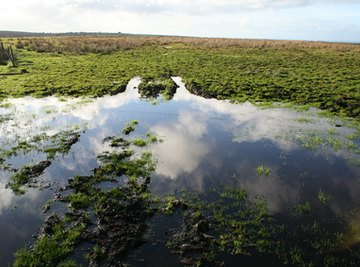 High water tables are a nuisance that many homeowners must face. The water table lies underground and is the level at which the soil and gravel are completely saturated with water. There is often some seasonal change in the water table, due to rain or drought. A high water table is especially common in low-lying areas, or areas where the soil is not well drained.
Causes of High Water Table
Water tables can become elevated when they receive more water than they drain off. This can be from unusually high amounts of rain, or excess water from higher elevations.
Basement or Crawlspace Flooding
High water tables are often above the level of basement floors or crawlspaces. This almost always causes flooding in these areas.
Standing Water
Standing water is common with high water tables, especially after rain. The water pools in the yard, which may lead to mosquito infestation.
Septic System Failure
High water tables interfere with septic systems. This can cause premature failure or sewage backup into your home or yard.
Destruction of Crops
High water tables are also detrimental to crops. Water standing on fields for long periods of time can kill crops or encourage mold growth.
References
About the Author
Risa Edwards is a librarian who works for a small private university. She has a degree in geology and library science, but is interested in topics from across many disciplines. Edwards enjoys using her research skills to help others as well as continuing to broaden her own knowledge.
Photo Credits