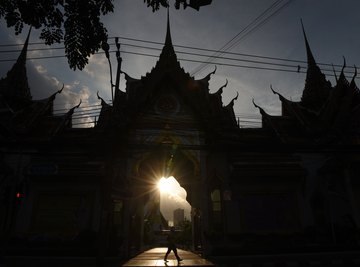 •••
TANG CHHIN SOTHY/AFP/GettyImages
It's been underwater for decades – but now, extreme droughts in Thailand have brought it to the surface. The Buddhist temple of Wat Nong Bua Yai, once a central fixture for villagers in Central Thailand's Lobpuri province, is again drawing droves of tourists, monks and local onlookers.
The temple, which sits in a reservoir, was submerged during dam construction 20 years ago. Now, the reservoir is at less than 3% capacity, and the temple's remains are again visible, as reported by Reuters.
Some Temple History
Wat Nong Bua Yai is a modern temple, having once served as the center of the Nong Bua village community.
"When I was young, I always came to meet friends at the elephant sculptures in front of the main building to play there," recalled Nong Bua village headman Yotin Lopnikorn in Reuters' reporting.
At that time, villagers used the temple for educational activities and rituals, plus as a recreational area. But more than two decades ago, dam construction forced the village residents to relocate, and the resulting reservoir swallowed their beloved temple.
Now, however, the temple has returned, as it did once before, after a 2015 drought. Its ruins feature a 13-foot, headless Buddha statue, which visitors are now adorning with flowers. The remnants of 700 village households scatter nearby the temple.
"This is the second time I have seen this temple in this condition," Lopnikorn told Reuters. "Now I think we need to save this place."
A Historical Drought
The dam that led to the temple's submersion features a capacity of 960 million cubic meters, typically irrigating more than 1.3 million acres of farmland across four Thai provinces. The current drought has shrunk that irrigation area to a tiny fraction of its potential: The dam now irrigates just 3,000 acres, all in the Lopburi province.
Though the temple reappeared previously in 2015, the Thai Meteorological Department claims this year's drought is exceptional, according to reporting from LiveScience. In fact, it's the worst drought in over a decade for Thailand as a whole, and in 50 years for specific regions of the country. The Mekong River, which lies just east of Thailand along the Laos border, is lower now than it's been in nearly a century.
And all this during monsoon season, which should be the wettest time of year in Southeast Asia.
Secretary-general of Thailand's office of national water resources Somkiat Prajamwong reported a "critical risk of water shortages" across 83 districts in 20 Thai provinces, according to the Nikkei Asian Review.
"This year, we have nearly 12 billion cubic meters less water than in 2018," Prajamwong said, as reported by Nikkei.
Reservoir-reliant rice farmers are suffering as a result. The Thai government even asked them to postpone this year's rice-planting, which usually takes place in May, until the rains returned. The rain has yet to hit Thailand, however, so the government is now releasing chemicals to cause clouds to condense over the country in hopes of instigating some rain to allow for rice planting.
References
About the Author
Brenna Swanston is a freelance writer, editor and journalist. She covers topics including environment, education and agriculture. She previously reported for the Sun newspaper in Santa Maria, Calif., and holds a bachelor's in journalism from California Polytechnic State University. Swanston is an avid traveler and loves jazz, yoga and craft beer.