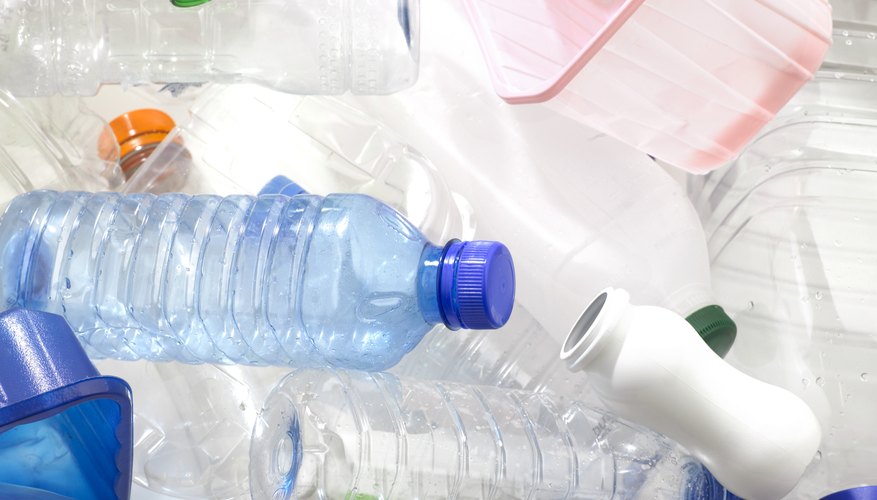 Melting plastic is one method of separating different types, a vital step in the recycling process. As recycling in the home becomes more popular, the question of the best way to melt plastic arises. Can water be used? Of even greater inportance is the question of whether water bottles left in the heat are safe to drink or whether the water melts part of the plastic. A study of melting points can answer both these pressing questions.
Melting Point
Every substance has a melting point, the temperature at which the substance changes from a solid to a liquid. For example, the melting point of water is 0 degrees Celsius (32 degrees Fahrenheit). This is the point at which ice becomes liquid water. To melt plastic, it is necessary to raise the temperature of plastic to its melting point. If plastic is being melted by water, then the temperature of the water must be simply the melting point of the plastic. If the melting point of plastic is greater than 100 degrees Celsius (212 degrees Fahrenheit), then the water is in the form of steam.
Melting Points of Plastics
Different types of plastic have different melting points because they are different chemical compounds. For example, PVC melts at approximately 175 degrees Celsius (347 degrees Fahrenheit). Different types of HDPE, recycle symbol "2," have a melting point range between 130 and 146 degrees Celsius (266 and 295 degrees Fahrenheit). Different types of polypropylene, recycle symbol "5," melt between 160 and 208 degrees Celsius (320 and 406 degrees Fahrenheit). If other compounds are included in the plastic, making it impure, the melting point will be reduced.