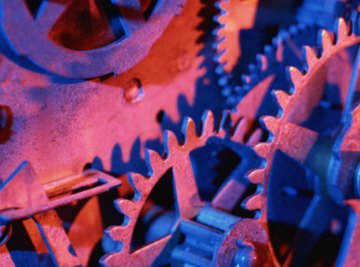 •••
Jupiterimages/Photos.com/Getty Images
The diametral pitch of a gear describes how densely its teeth are set around it. The pitch is the ratio between the number of teeth and the gear's size, and engineers always express it as a whole number. This value is important for further calculations involving the gear, including the size of each of the gear's teeth. A smaller pitch corresponds with larger teeth, and smaller teeth belong on a gear with a larger pitch.
Measure the radius of the gear. Exclude the gear's teeth from your measurement. For this example, imagine a gear with a radius of 3 inches.

Multiply this measurement by 2: 3 × 2 = 6 inches.

Divide the number of teeth on the gear by this measurement. For example, if the gear has 28 teeth: 28 / 6 = 4.67.

Round this figure to the nearest whole number: 4.67 is approximately 5, so the gear has a pitch of 5.

"Pitch" sometimes instead refers to the circular pitch, which is the distance between corresponding points on successive teeth. To find this value, divide pi by the diametral pitch. With this example: 3.142 / 5 = 0.628 inches.
Jupiterimages/Photos.com/Getty Images