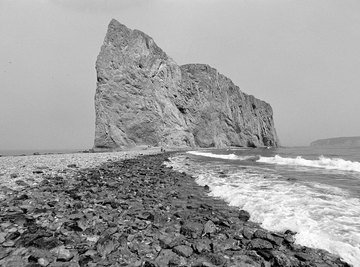 •••
Photos.com/AbleStock.com/Getty Images
People who live near the sea fortify shorelines with riprap, a collection of rock or rubble. This stone barrier absorbs the waves' force, helping an otherwise vulnerable shore resist erosion. Engineers refer to a riprap layer as the shoreline's armor. They need to know the mass or volume of riprap necessary to create a barrier. The material's density lets them convert between these factors.
Determine the riprap's density. If the riprap consists of crushed stone, its density is 2,500 pounds per cubic yard. If it contains mostly gravel, its density is 2,700 pounds per cubic yard. If the riprap contains concrete or limestone rubble, it has a density of 4,050 or 4,600 pounds per cubic yard, respectively.

Multiply the riprap's cubic yardage by its density. For example, if the you are calculating the weight of 15 cubic yards of gravel: 15 × 2,700 = 40,500 lb.

Divide this answer by 2,000, which is the number of pounds in a ton: 40,500 ÷ 2,000 = 20.25. This is the riprap's weight, measured in tons.
References
Resources
About the Author
Ryan Menezes is a professional writer and blogger. He has a Bachelor of Science in journalism from Boston University and has written for the American Civil Liberties Union, the marketing firm InSegment and the project management service Assembla. He is also a member of Mensa and the American Parliamentary Debate Association.
Photo Credits
Photos.com/AbleStock.com/Getty Images