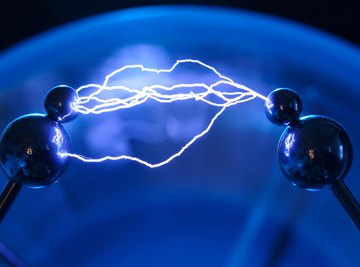 •••
scotspencer/E+/GettyImages
Electrical interference or electromagnetic interference (EMI) is defined by SearchMobileComputing.com as the "disruption of operation of an electronic device when it is in the vicinity of an electromagnetic field (EM field) in the radio frequency (RF) spectrum that is caused by another electronic device." The disruption comes in two primary forms: conducted interference and radiated interference. Conducted interference is where signals from one electrical conductor is coupled or transferred to a conductor in close proximity. Radiated interference is where signals from a transmitter is picked up by wires in the vicinity.
Locate the electrical device you are looking to interrupt with interference. For example, assume you want to interfere with a radio in your home.

Find a device with an electrical motor. Examples include vacuum cleaners and hair dryers.

Plug both devices into a wall outlet in the same house or building. Since the wall outlets in most houses are tied to the same ground, the ground is a common source of conducted interference, especially from the low frequency hum of an electric motor.

Turn on both devices at the same time. In the example with radio, you will hear the electrical interference from the device with the electric motor through the radio speakers.
References
About the Author
Dwight Chestnut has been a freelance business researcher and article writer for over 18 years. He has published several business articles online and written several business ebooks. Chestnut holds a bachelor's degree in electrical engineering from the University of Mississippi (1980) and a Master of Business Administration from University of Phoenix (2004).