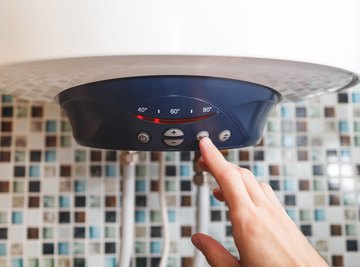 •••
Vladdeep/iStock/GettyImages
What is a Check Valve?
A check valve is a device that is installed in the pipes connected to a water heater to prevent the backflow of water. When the water flows forward toward the check valve, the valve opens to allow the water to flow through. When the flow of water stops, the check valve closes so that the water cannot reverse direction and flow back the way it came.
Advantages of Check Valves
Check valves are important in a water heater because they prevent flooding or overflowing. They also stop the water from constantly flowing backwards, even when the heater is off. This prevents eroding of the pipes and saves power.
Operation of a Check Valve
There are several types of check valves, but most water heaters use a swing check valve. A swing check valve contains a disc attached to the wall of the pipe by a hinge. When the water flows forward through the valve, the disc swings open on its hinges, allowing the water through. When the flow of water stops, the disc slams shut, preventing any backflow. In some cases, the swing check valve is weighted so that it will operate most effectively.
Resources
About the Author
Keren (Carrie) Perles is a freelance writer with professional experience in publishing since 2004. Perles has written, edited and developed curriculum for educational publishers. She writes online articles about various topics, mostly about education or parenting, and has been a mother, teacher and tutor for various ages. Perles holds a Bachelor of Arts in English communications from the University of Maryland, Baltimore County.