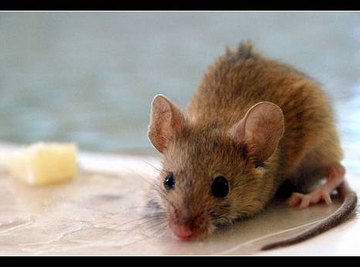 •••
pasotrapastra at Flickr.
Smell and Feel
A mouse's eyesight is not very good. It mainly relies on smell and feel, via its whiskers and paws, to navigate. It has a keen sense of smell and hearing and very sensitive whiskers. By scurrying around, sniffing and letting its whiskers drag on the floor or ground, a mouse can smell and feel little crumbs, scraps and other pieces of food laying around.
Territory
Mice are territorial. They make a nest, then establish a certain territory around the nest. They will follow routines of checking around the perimeter of their territory, both to identify any predators (or other mice) and to locate food. Once they use their senses to locate the best food sources within their territory, they will regularly revisit them.
Communication
Mice communicate with each other via body language, high-pitched noises (some inaudible to humans), and, some speculate, via their whiskers. Mice often communicate with each other about dangers as well as food sources.
Resources
About the Author
Annie Mueller is a professional writer and blogger. Since 2003 she has written extensively on small business, finances, parenting, education and personal growth, and has been published on Financial Edge and many other websites. Mueller attended Missouri Baptist College and earned her Bachelor of Arts, summa cum laude, in English from Mississippi State University.
Photo Credits