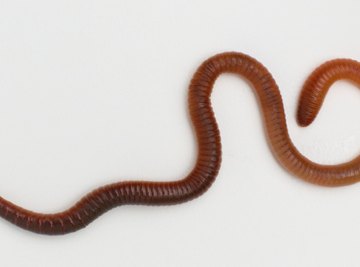 •••
Don Farrall/Photodisc/Getty Images
Many animals detect light because they have eyes that contain light receptors. Earthworms lack eyes, but they do have light receptors—called photoreceptors—on their skin.
Location
Earthworm photoreceptors are located in nerve fibers in the skin. These nerve fibers are connected to special nerves called ganglia, which connect to an earthworm's version of a brain. The brain, called a ganglion, helps trigger chemical reactions to control the entire body of the worm.
Significance
Earthworms soon dry out and die if exposed to warmth and sunlight. They need to stay underground in moist dirt to survive. If any part of a worm is exposed to light as it tunnels, the worm is alerted through the photoreceptors and can quickly react to get back to safer ground.
Fun Fact
Earthworm photoreceptors can detect the intensity of different colored lights. Earthworms move away from white or blue light, but they do not react to red light.
References
Resources
About the Author
Rena Sherwood is a writer and Peter Gabriel fan who has lived in America and England. She has studied animals most of her life through direct observation and maintaining a personal library about pets. She has earned an associate degree in liberal arts from Delaware County Community College and a bachelor's degree in English from Millersville University.
Photo Credits
Don Farrall/Photodisc/Getty Images