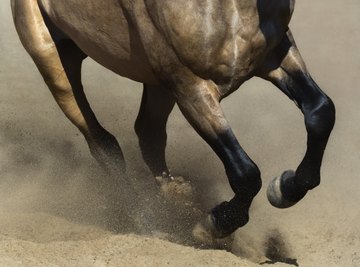 •••
Abramova_Kseniya/iStock/GettyImages
Horses have been raced competitively for centuries, and horse racing events remain a popular part of human culture. There are five main gaits, or ways in which a horse can move; these are called walking, trotting, cantering, galloping and backing. The average speed at which a horse gallops is approximately 48.2 kilometers (30 miles) per hour, but the top speed reported is considerably higher.
World Record for Race Horse Speed
The Guinness Book of Records reports that the fastest speed of a racehorse ever reported was approximately 70.76 kilometers ( 43.97 miles) per hour and was achieved by the horse "Winning Brew" at the 2008 Penn National Race Course at Grantville, over a distance of 402 meters.
References
About the Author
Samuel Markings has been writing for scientific publications for more than 10 years, and has published articles in journals such as "Nature." He is an expert in solid-state physics, and during the day is a researcher at a Russell Group U.K. university.