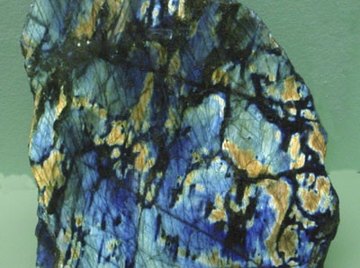 What is Labradorite
Labradorite, also called spectrolite or labrodite, among many other names, is a type of feldspar that was officially found by Moravian missionaries in Labrador in Canada in 1770, according to Infomine writer Peter Budgell. It is also found in Newfoundland, Madagascar, India, Russia, Mexico and Finland, among several other nations. The rock appears often as a shiny bluish-purple with streaks of green in it. When hit by the light, it produces a "flashy" brilliance illuminating the many colors that may be imbedded in the mineral.
Open-Pit Mining of Labradorite
Labradorite may be mined using a variety of methods. It can be extracted by individuals in "public" mines such as the Sunstone Mine in Orgeon where red labradorite is found. Here mining enthusiasts can use hammers and pails to get their minerals. Labradorite found near the surface may be mined using the open pit process. After careful prospecting in which a very large drill is used to determine the depth at which the mineral may be found, the labradorite is exposed for mining.
How it is Done
Open pit mining involves removing large areas of rock to get to the minerals. The waste rock is removed using an excavator, which then places the waste material onto a dump truck, as mentioned by "Open-Pit Mining" writer Greg Hoss. As layers of rocks are removed the mineral is gradually exposed. During mining operations, bulldozers, also called crawler-tractors, are used to push dirt as needed.
Underground Mining of Labradorite
Labradorite that is found deeper in the earth may be brought to the surface using underground mining. Using this method, a large vertical or horizontal hole is dug in the earth and materials, people and equipment are brought into the area so that the mineral can be taken to the surface for processing.
How it is Done
Equipment often used in this to mine are a continuous miner that creates holes in the walls of the mine when the drill and blast method, in which explosives and a large drill expose the mineral, is not used. An articulated dump bring materials into the area. Longwall mining equipment is used to remove rock in layers and shuttle cars, which may look like gray carts, take material out of the mine. In more modern operations, trucks are utilized. Afterward, the labradorite is processed and sold for use in jewelry, glass-production and other uses.
About the Author
A published writer since 2004, Somer Taylor has authored two fiction books through PublishAmerica and has written for various websites. Taylor has a Bachelor of Science in biology from Prairie View A&M University.
Photo Credits