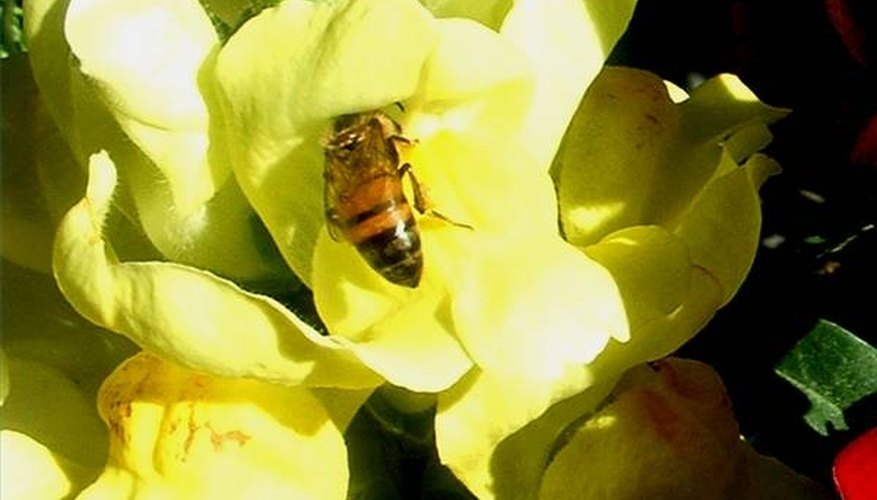 A. Johnson
Royal Jelly
Royal jelly earns its name from the fact it is the substance that is fed in high quantity to the bee larvae destined to ascend to the crown of queen bee. It is a vitamin-rich, creamy substance that is manufactured by worker bees. To make royal jelly, the bees combine bee pollen and honey with enzymes in glands located in their throats. Worker bees deposit the royal jelly in the bottom of each cell of the nest. Although all bee larvae receive some royal jelly, the future queen bee is fed this substance exclusively and in high quantities. The queen bee, whose function is to lay eggs, will grow to be much larger than the drones and worker bees, and can live up to five years, compared to the limited lifespan of a non-royal bee, that might be just a few weeks or months.
Warnings
Because of the impressive influence royal jelly has on bee larvae--turning what might have been a worker bee into a queen bee--royal jelly is marketed as a miracle cream or nutritional supplement. Although there is no substantial scientific data to validate the health benefit claims to the traditional medical community, there is documented information that royal jelly can cause an allergic reaction for some people. The reactions can be mild, such as stomach upset or skin irritations. They can also be severe, such as asthma, intestinal bleeding, anaphylaxis shock and possible death. About 65 percent of royal jelly is water, with about 14 percent being protein, 10 to 16 percent being sugar and 3 to 6 percent being fat, with some salts, vitamins and free amino acids.
Harvesting
In spite of the unproven health benefits, royal jelly is marketed with the promise to improve immunity, help those who suffer with multiple sclerosis and arthritis, encourage hair growth, improve sexual performance, lower cholesterol, improve cardiovascular ailments, help with liver and pancreatic disease, slow signs of aging, ease menopause symptoms and cure insomnia, fatigue, ulcers and skin irritations. With so many promises, harvesting methods have been developed to collect the royal jelly. Harvesting begins by first encouraging a bee hive to produce more queen bees. This is done with movable frames and collecting royal jelly from the individual queen cells. It is collected from these, instead of regular larvae cells, because that is where there are sufficient amounts to harvest. When the queen larva is a few days old, the royal jelly will be collected from the cell. Royal jelly is perishable, and will need to be immediately refrigerated after harvesting.