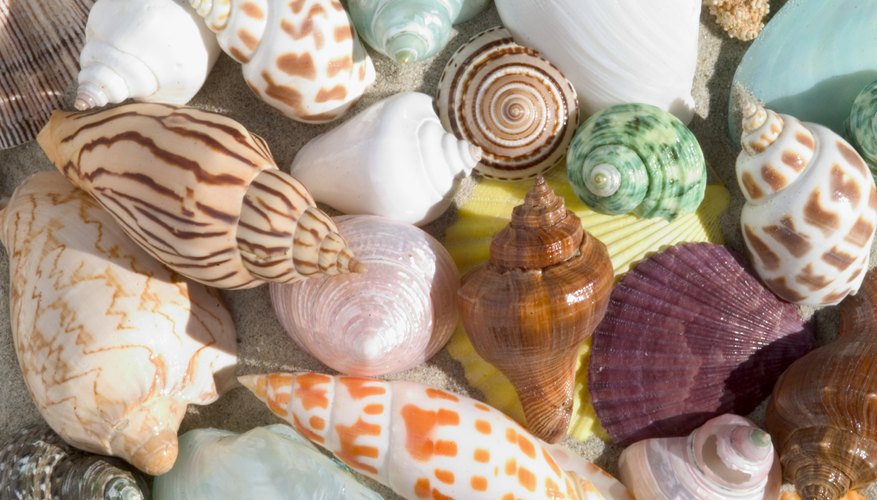 Purpose of Shells
A seashell may look like a beautiful, hollow treasure, but to a certain sea creature it was once more than that. These sturdy shells are home to mollusks. Mollusks are invertebrate animals with slimy, fragile bodies. The shells protect their bodies from the elements and predators.
Evolution
The first mollusks were worm-like creatures that lived in primordial seas. They ingested the salt and chemicals from eroding land masses and began producing outer shells as they excreted calcium carbonate. The shells are hardened and enlarged as more calcium carbonate is secreted. Though the shell is attached the animal, it doesn't affect any of the animal's body processes. It is not a part of the living body of the animal. The shell is formed out of minerals, not cells. When the animal dies, the sturdy shell is left behind.
Growth of the Shell
The shell has periods of growth, but is not growing all the time like a human would. The shell grows in two directions as it forms the outer surface and the inner chambers. The different angles at which the shell grows and the pattern of the chambers is what makes each species of mollusk shell look different.
Colors and Patterns
The colors that are vividly displayed on the surface and inside of the shell are caused by the mollusk's diet. This is why seashells vary in different parts of the world. Warmer, more tropical waters provide a variety of different food sources for the animal. This is why the more vibrant shells can be found in warm tropical areas. Cold-water mollusks tend to eat from only a few food sources and are usually darker with fewer colors mixed in. The pattern of these colors is determined by the rate of secretion of the mollusk. If pigment is secreted continuously from the entire mantle, the shell will be one solid color. If the pigment secretion is erratic, this will cause speckles and spots on the shell. If the pigment is secreted continuously, but only on certain areas of the mantle, it will result in radial lines and patterns.
Empty Shells
When you find a seashell washed up on the beach, it is usually empty and clean. The animal inside has already died and its remains have been cleaned up by ocean predators.