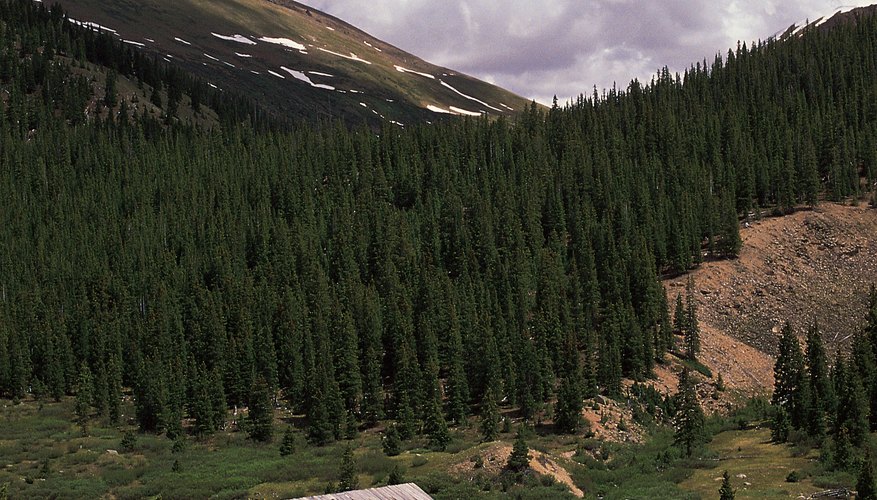 Comstock/Comstock/Getty Images
Tailings are the residue of the process of extracting a metal from ore. In simple, placer gold mining is when the gold is separated from the tailings by gravity and water, and the tailings are comparatively harmless. In most mining however, the ore is crushed and then treated with chemicals and the environmentally detrimental consequences are long-lived and severe. The tailings of old lead and silver mines are likely to be contaminated with arsenic, chromium and lead and making a pile of them concentrates these poisons. In extreme cases, like the uranium tailings on the banks of the Colorado River just outside Moab, Utah, the environmental consequences are forever and potentially catastrophic.
Drill boreholes through tailings piles into the subsoil beneath them to determine the concentrations of environmental pollutants in the piles and estimate the extent that those contaminants are leaching into the supporting soil. Drill the boreholes with a drilling rig. Determine contaminant levels by laboratory analysis.
Drill additional boreholes around the tailings pile to determine the amount of leaching of environmental pollutants into the surrounding soil. Determine the contaminant level of ground water in the boreholes by testing the water in the holes in a laboratory.
Level and terrace tailings piles that do not contain high concentrations of heavy or radioactive metals and poisons using laborers and earth moving equipment. "High concentrations" are amounts of heavy or radioactive metals that have been determined to be potentially hazardous by tribal, state or national law. These levels vary by tribe, state and nation. Leveling and terracing will stabilize the tailings pile and minimize runoff.
Cap tailings piles without high concentrations of heavy or radioactive metals with synthetic materials or concrete to prevent additional leaching.
Design and build a waterproof treatment and containment facility for tailings piles that contain high concentrations of heavy or radioactive metals.
Transport all tailings that contain high concentrations of heavy or radioactive metals to the treatment and containment facility using earth-moving equipment and trucks. Transportation of these materials is largely unregulated although storage of these materials is regulated. In the United States, the regulations that apply to both the storage and transportation of these materials are written, published and administered by the Environmental Protection Agency, the Department of Transportation and the Department of Energy. In the Moab, Utah cleanup, the regulations are written as the the cleanup proceeds by the US Department of Energy.
Warning
Tailings clean-ups are regulated by federal law in the U.S. and Canada.