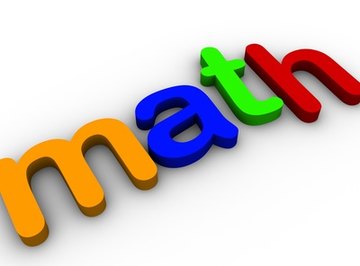 The math Accuplacer Test is used as an entrance exam for students entering college. In actuality an individual does not pass or fail the Accuplacer, because it is used as a measuring tool for appropriate placement in college math courses. For example the Accuplacer math shows if a student must take developmental math courses or has the ability to enroll in college-level math courses. Though the Accuplacer math test is not a pass-or-fail test, it is beneficial to receive a score that places an individual in college-level math, as developmental courses may take more time and money to complete.
The Math Accuplacer
Review Accuplacer study guides. Study guides are beneficial because they provide a sample of the actual test.

Take a pretest. Pretests may be available online or on your college campus. Pretests allow you to determine any weak areas you may have. After finding weak areas, use the study guides to work for improvement.

Attend an online study session held by your college of choice. Study sessions allow you to meet with others and get suggestions and ideas on how to study and increase your scores for the actual test.

The math Accuplacer covers three areas of math in different ways. The arithmetic test has 17 questions and tests basic arithmetic operations and problem solving. Elementary algebra has 12 questions and covers operations with integers, rational numbers, algebraic expressions and solution of equations. The college level mathematics portion of the test has 20 questions and covers intermediate algebra through pre-calculus. Other sections cover the same math in sentence-problem form.

If a student is placed in developmental courses, he cannot move on to college-level math courses until he passes developmental courses.
References
About the Author
Bianca Bumpres resides in Dallas, Texas with her family. She has written for online internet blogs and writes a weekly single parent column for the Dallas area. Bumpres enjoys spending time with her family and friends. Her extracurricular activities include enjoying music, reading and weekly volunteer ministry work.
Photo Credits