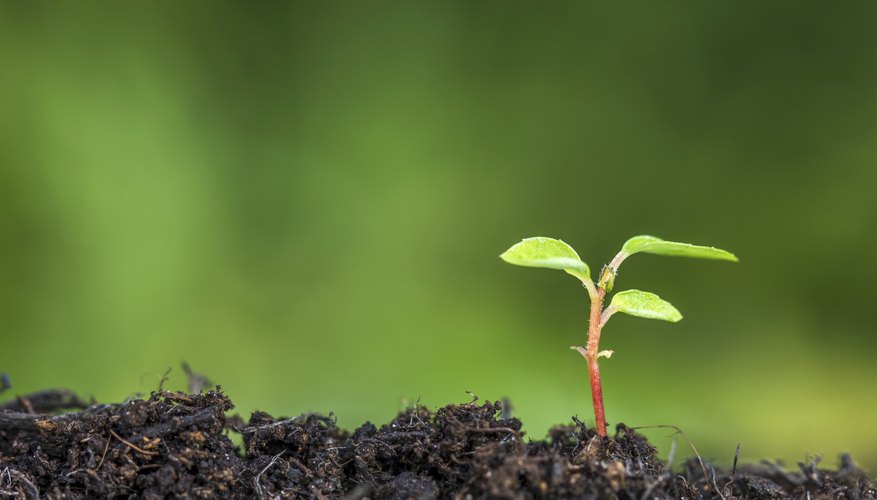 KenEaster/iStock/Getty Images
Vascular plants move water via two kinds of transport tissues: xylem and phloem. In addition to water, these tissues also move nutrients and genetic material throughout the plant. The movement of water in vascular plants is driven by a process called transpiration, in which water evaporating from the leaves of a plant causes the plant to draw more water up from the roots.
Water Flow Through Xylem
Known primarily as a water transporter, xylem is made up of three kinds of cells: xylem parenchyma cells, xylem fiber cells and tracheary elements. Xylem parenchyma cells and xylem fiber cells act as support structures for tracheary elements, which are the actual "pipes" through which water flows. Tracheary-element cells are dead at maturity, making them a completely passive part of the transport process. These cells must be highly rigid to function properly, and this rigidity is achieved by secondary cell wall support structures. After tracheary-element cells form their reinforced cell wall, they go through a sort of programmed death that allows water to pass through the hollowed-out cell.
Material Flow Through Phloem
Phloem tissue includes several different types of cells, such as sieve elements, companion cells, sclerenchyma cells and parenchyma. Sieve elements are the main conducting elements of phloem, and the other types of cells act as either structural or biological support cells. Unlike tracheary elements in xylem, sieve elements are partially alive at maturity and take an active role in the movement of water and other materials throughout a plant in a process called translocation. Translocation moves materials from developing tissues to storage tissues. As sieve elements are only partially alive at maturity, in addition to their active roles, they are also partly hollowed out, passively allowing materials to pass through. Sieve-element cells go through a partial programmed cell death but still contain some organelles that aid in the transport process.
The Transpiration Process
For water to move through a plant, it must go against the pull of gravity, and a plant is able to accomplish this using a process called transpiration. This process begins with water evaporating from the leaves of a plant. To replace the evaporated water in the leaves, water is drawn out of the connected xylem. Additional water is then pulled up from the roots in the same way that a soft drink might be drawn up through a drinking straw. A plant often modifies its rate of transpiration in response to various factors, such as the availability of water.
Adaptations to Water Availability
Some plants that grow in particularly arid climes have evolved to cope with their surroundings. Some of these adaptations directly affect the transpiration process. The presence of a waxy cuticle on a plant's leaf can help reduce amount of water lost through evaporation. A plant might also have guard cells around the tiny holes on the undersides of its leaves, called stomata, to prevent excessive water loss. When water is plentiful, it enters guard cells in large volumes, causing them to become distended and make the stomata larger.