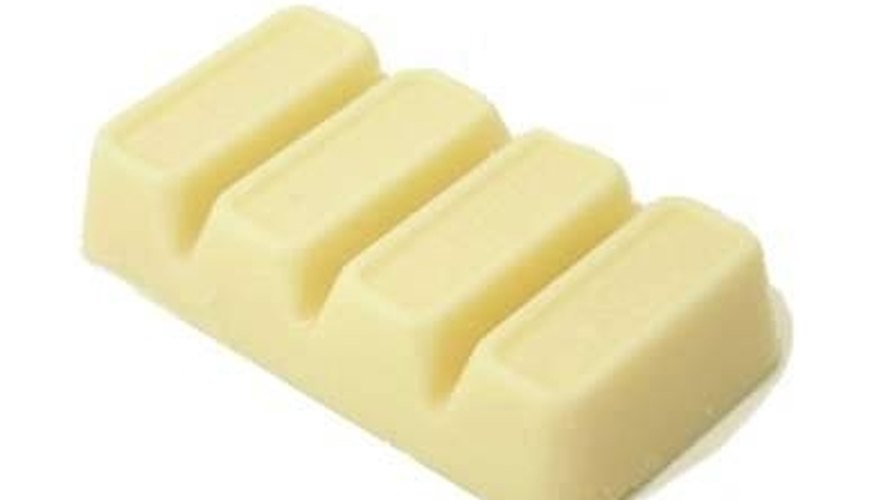 What It Is
White chocolate is a combination of cocoa butter, milk (and/or milk solids) and sugar. There are some people who argue that the term is misleading, because white chocolate has little taste or appearance in common with milk chocolate, dark chocolate, or anything else that most people think of as essentially chocolate. However, cocoa butter does come from the same cocoa beans as cocoa powder and other traditional chocolate, and the process is similar, so the name for white chocolate has stuck.
How It Is Made
Generally speaking, most white chocolate makers hang bags of crushed cocoa beans in what is called a "Broma process." This allows the cocoa butter to drip out of the cocoa beans, leaving behind cocoa solids. The resultant bifurcation of the bean's essence allows the cocoa solids to be used for traditional chocolate, and the cocoa butter to be used for white chocolate.
The cocoa butter itself often goes through an additional deoderizing process to make up for the strong unpleasant taste that cocoa butter has in its natural form. Once this is done, the cocoa butter is mixed with milk and sugar to create white chocolate. White Chocolate must contain at least 20 percent cocoa butter and 17 percent milk, although the amount of sugar may vary, and vanilla is often added for flavor.
No Cocoa Solids
The process is very similar to the production of regular chocolate, but does not include any chocolate liquor that comes from melting down the cocoa solids. The advantage of this is that white chocolate contains no caffeine, thus allowing it to be eaten by people who cannot eat regular chocolate for health reasons.