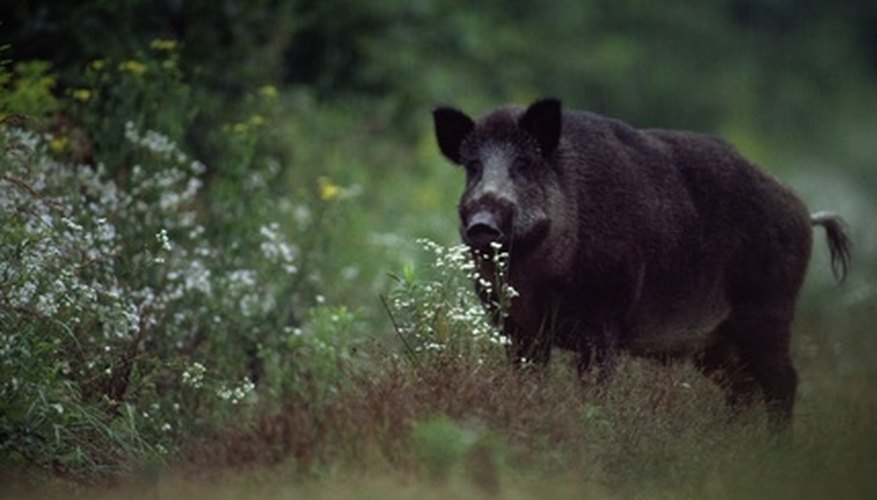 wild boar image by Budai Károly from <a href='http://www.fotolia.com'>Fotolia.com</a>
Hunting wild hogs will give you a freezer full of meat if you are able to get one. Hogs are typically domestic animals, but in the wild they can be very damaging to the environment. Wild hogs are omnivores; they can ruin crops and kill other farm animals. Fortunately, when you know the right places to go, you can to find boars to hunt.
Research all local hunting regulations. You may need a license to hunt wild hogs and the hunting season may be restricted.
Look for areas that may be home to wild hogs. Ask other hunters in your area for tips. You can also look for the telltale signs of wild hogs--hog feces, digging around the roots of trees, hog beds and hog footprints.
Choose your weapon. If you expect that you will be in close range with the hog, such as in a dense forest, select a shotgun or a quick shot rifle. If you're hunting in open areas, you will need a gun with a longer range, such as the bolt action.
Apply unscented deodorant. Hogs have a keen sense of smell and may be able to detect that you're in the area through body odor. Deodorant covers this up.
Hide and wait. Once you've located an area where you expect the hogs to come, settle in and keep quiet. If the hog hears you, he will run away.
Aim for the neck. Once you have a hog in your view, try to hit him in the neck, which will kill him the fastest. If you hit other areas, he may be able to escape.