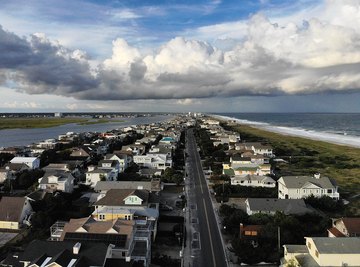 •••
Mark Wilson/Getty Images News/GettyImages
Hurricane Florence is getting weird.
This dangerous, Category 4 hurricane has been spinning offshore of the Carolinas for days, threatening to set a new precedent for storms in the Southeast. Most hurricanes hit the shore in a roar, and weaken quickly from there. Florence should instead hit the coast and stall, lingering over affected areas, as Weather Channel meteorologist Greg Postel told USA Today. Most storms hitting southeastern states move north after making landfall. Florence, on the other hand, is forecast to land farther north along the coast than any other storm to hit the Carolinas, and make its way southwest from there.
In short: Florence is bringing us something different – and not in a good way.
Where Florence is Going
Meteorology is by no means an exact science, but as of Sept. 12, the National Oceanic and Atmospheric Administration (NOAA) predicts Hurricane Florence to make landfall on North Carolina's southern coast around 8 a.m. on Friday, Sept. 14. Originally, NOAA expected the storm to move north, toward western Virginia. Now, it projects Florence to travel south along the coast, hitting the South Carolina border on Saturday morning, and then west, wreaking havoc through the center of South Carolina until Monday.
That said, storm conditions will arrive at the coast long before the hurricane does. NPR reported that tropical storm conditions should hit the North Carolina coast on Thursday, though hurricane conditions won't arrive until Friday. The National Hurricane Center warned that tornadoes could develop in eastern North Carolina, beginning late Thursday morning. And North Carolina Gov. Ray Cooper is urging coastal residents to take the storm seriously and evacuate while possible: "Disaster is at the doorstep and is coming in. If you are on the coast, there is still time to get out safely."
What to Expect
Flooding, strong winds, tornadoes – Florence has a lot up its sleeve.
Let's start with wind speeds, which dictate a hurricane's "category" on a scale of one to five. Hurricane Florence is expected to travel slowly once it hits land, but that doesn't mean slow wind speeds. Florence is currently a Category 4 hurricane, meaning its winds are ranging from 130-156 mph. NOAA predicts that by the time Florence hits the coast, it will have downgraded to a Category 3 storm, with wind speeds between 111 and 129 mph.
AccuWeather meteorologist Marshall Moss told USA Today that coastal areas should see torrential rain, high winds and storm surge, potentially for multiple days. Some areas along the Carolinas' coast could see as many as 40 inches of rain, since Florence is projected to stall over those areas for an extended time period. This may lead to deadly flooding in the Carolinas, which has prompted more than 1 million people to evacuate the states' coastal regions.
As the Atlantic reports, slow hurricanes are particularly dangerous. Last year's Hurricane Harvey followed Florence's projected "stalled storm" pattern, lingering over Houston for more than two days, tearing apart the region. Harvey displaced more than 30,000 people in August 2017, and killed 88. Florence is expected to make landfall with comparable strength.
Why It's Our Fault
These slow-spinning cyclones are a relatively new phenomenon, and according to a paper published in Nature earlier this year, this is likely due to the warming climate. As ocean temperatures climb, they fuel hurricanes in the form of evaporating water, which also slows down the storms. Kevin Trenberth, an atmospheric scientist at the National Center for Atmospheric Research, told NPR that Hurricane Harvey drew its power from record-high temperatures in the Gulf of Mexico. Likewise, Trenberth suspects Florence is drawing intensity from above-average temperatures in the Atlantic Ocean.
Ocean temperatures are rising in line with overall global temperatures. Humans burn fossil fuels to power cars, power plants and airplanes, which in turn release greenhouse gases that trap heat in the Earth's atmosphere. As the atmosphere warms, so do ocean waters, which then power massive, slow-moving storms like Harvey and Florence.
As of 2 p.m. ET on Wednesday, Sept. 12, the National Hurricane Center reported Florence at 435 miles southeast of Wilmington, North Carolina. The storm was moving northeast at 16 mph, and expected to reach the coast late Thursday or early Friday.
References
About the Author
Brenna Swanston is a freelance writer, editor and journalist. She covers topics including environment, education and agriculture. She previously reported for the Sun newspaper in Santa Maria, Calif., and holds a bachelor's in journalism from California Polytechnic State University. Swanston is an avid traveler and loves jazz, yoga and craft beer.