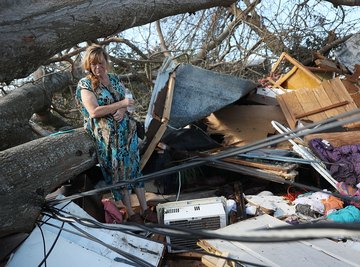 •••
Joe Raedle/Getty Images News/GettyImages
Dozens are missing, hundreds of thousands are without power and countless homes and businesses are destroyed in the wake of Hurricane Michael, which made landfall in the Florida Panhandle on Wednesday, Oct. 10.
A Striking Landfall
The storm had built into a Category 4 hurricane when it hit Florida, slamming coastal towns with winds as high as 155 mph. It wiped out entire buildings, flooded streets and ultimately killed dozens, leaving a death toll of 26 as of Tuesday, Oct. 16. Prior to Michael's landfall, at least 120,000 Florida Panhandle residents were ordered to evacuate, including the entire population of Mexico Beach, Florida. Of the city's 1,200 residents, 289 (including 10 children) chose to stay, despite evacuation orders. Three of those residents remained missing as of Monday.
Hurricane Michael moved through South Georgia on Oct. 10 and 11, and had devolved into a tropical storm when it moved through the Carolinas on Oct. 11. Michael moved off the U.S. coast on Oct. 12, but the damage it left behind continues to affect hundreds of thousands of people.
Life Without Power
More than 230,000 Florida and Georgia residents were without power as of Monday morning, five days after the storm made landfall in the Panhandle. Many had no cell service, electricity, or shelter, relying on cellphones from rescue units to contact their loved ones. Fuel was scarce, and the air was hot, reaching 88 degrees F with 70 percent humidity in Mexico Beach on Monday.
Authorities said it was hard to tell how many people were still missing in total, since the widespread cellphone outages were preventing some people from reaching out to indicate that they were safe. The Panama City Fire Department had received more than 200 calls to check on residents as of Monday, but the chief told CNN it could potentially take weeks to complete those checks.
Ongoing Disaster Response
President Donald Trump made major disaster declarations for 11 counties in Florida and six counties in Georgia. He also gave the green light for disaster relief in four Alabama counties. The Federal Emergency Management Agency (FEMA) had 14 teams in place in Florida as of Monday, helping residents register for disaster assistance. The agency also set up 17 distribution points through Florida and Georgia to provide disaster-stricken residents with food and water. FEMA Chief Brock Long said the damage left behind by Hurricane Michael ranks among some of the worst he's seen in his career.
"I've seen pictures, but it's hard to believe, when you're above it in a plane and to see the total devastation," Trump said, according to CNN. "You see no houses left. Not even the pads are left. It's incredible."
Florida Schools in Limbo
Schools in Florida's Bay County have closed indefinitely, CNN reported. Hurricane Michael damaged every school in the county, and completely destroyed some of them, according to Bay District School Board Vice Chairman Steve Moss. Moss said the only thing left of some of the district's schools is their foundation.
That leaves 26,000 Bay County students displaced, and the district scrambling to figure out how and when to resume classes. According to the Bay District Schools Facebook page, administrators are considering shared campuses, and asking for the community's continued patience.
"We're told it typically takes communities devastated by storms 3-4 weeks to get schools up and running," read a Monday post on the Facebook page. "We are still at 'plus 6 days' with a goal of being as quick as possible to restore infrastructure."
References
About the Author
Brenna Swanston is a freelance writer, editor and journalist. She covers topics including environment, education and agriculture. She previously reported for the Sun newspaper in Santa Maria, Calif., and holds a bachelor's in journalism from California Polytechnic State University. Swanston is an avid traveler and loves jazz, yoga and craft beer.