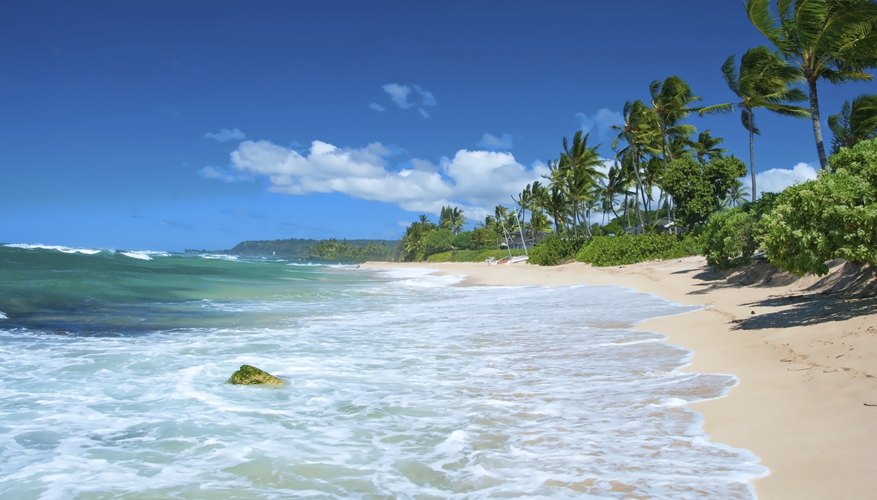 Hawaii conjures up images of balmy weather and beautiful beaches, but sometimes hurricanes threaten the islands. Classified as tropical storms with wind speeds faster than 119 kilometers (74 miles) per hour, hurricanes are most likely to occur July through December in Hawaii. Climate scientists expect more to occur during hurricane season in future as an effect of global warming.
Blow Hard
Hurricanes that threaten Hawaii form due to air temperature differences over the eastern Pacific Ocean. When water temperatures are 23.9 to 26.7 Centigrade (75 to 80 degrees Fahrenheit) and cool air meets warm air over the ocean, the warm air moves sideways and upward due to its lighter density. More cool air flows in to take its place, intensifying the wind speed. Only four hurricanes have caused serious damage in Hawaii since 1950.
An Ill Wind
Rising ocean temperatures and a change in the direction of a jet stream may bring more hurricanes to Hawaii in the future. Computer modelling carried out by Hiroyuki Murakami of the International Pacific Research Center at University of Hawaii and other climate scientists indicates temperatures in the equatorial central Pacific Ocean will rise, increasing the chances of hurricanes forming near Hawaii. The scientists also found that, though fewer hurricanes will probably form in the eastern Pacific, a subtropical westerly jet stream -- which is a fast-moving wind in the upper atmosphere -- will alter direction and steer more hurricanes toward Hawaii.