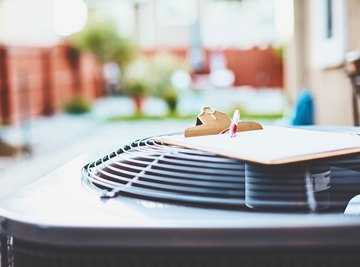 •••
CatLane/iStock/GettyImages
HVAC stands for Heating, Ventilation and Air Conditioning. HVAC for Beginners is a website that has an abundance of technical knowledge and information regarding heating, ventilation and air conditioning products. The goal of HVAC for Beginners is to keep readers apprised of the newest industry innovations in the field. From learning how to decrease the amount of your utility bills to learning about the most useful furnaces around, HVAC for Beginners has a lot of interesting information to offer.
Types
There are a lot of different types of ways in which HVAC for Beginners can help people, including helping with the construction of a brand new residence, remodeling, redesigning a home, getting rid of a water heater and saving money, picking out a good contractor and buying a new air conditioner.
Heat Pump
HVAC for Beginners helps people make smart, informed decisions regarding heating and heat pumps. HVAC for Beginners helps people learn about the proper size of heat pumps, about approximately how much it would cost to repair a malfunctioning heat pump, maintenance of heat pumps, new innovations such as hybrid heat systems and much more.
Air Conditioning Basics
HVAC for Beginners educates individuals about the basic split system unit for air conditioners, the highest efficiency air conditioners, special air conditioning features, thermostats, liquid refrigerants and much more. HVAC for Beginners teaches people about the basics of the air conditioner to help people eliminate unwanted heat from their homes and do it as cost effectively as possible.
Furnace
HVAC for Beginners is great for learning about furnace basics in order to gain an understanding about how to efficiently use the device (and save money). HVAC for Beginners educates people on basic types of furnaces for the home, including common types like biomass, gas, oil and electric.
Air Quality
One very important topic people covered at HVAC for Beginners is indoor air quality. The three most vital components to having healthy indoor air quality include humidity level, temperature and air cleanliness. The wrong humidity, temperature and a lack of cleanliness in the air could lead to your air quality making you ill. Both humidifiers (assistance for low humidity levels) and dehumidifiers (helpful for areas like basements and attics) could help with these issues.
History
HVAC for Beginners was founded by Richard Reed who began his career in the industry as an apprentice serviceman through the sheetmetal workers union. He started a company called Richard Reed Heating and Air Conditioning, Inc. after injuring himself on the job and ultimately being let go from his position. With his experience running this company, he realized that information online regarding heating and air conditioning systems was scarce and vowed to change that with the new HVAC for Beginners website. Reed's goal with this website was to provided unbiased, extensive, honest and helpful information to consumers.
Features
HVAC for Beginners is a content-heavy site without a lot of flash. It's educational information is organized by HVAC system component, and its content is deep and extensive. No matter what you can think of, whether it's brand rankings, load calculation, or information about less common HVAC products like swamp coolers, you can find a lot of helpful information about it. The professional community has a lot of appreciation for HVAC for Beginners. One website that is a fan of HVAC for Beginners is airconditioning-and-heating.com, which praises HVAC for its neutral, highly detailed and easy to understand consumer tips and advice.
Resources
About the Author
Lars Tramilton has been writing professionally since 2007. His work has appeared in a variety of online publications, including CareerWorkstation. Tramilton received a bachelor's degree with a focus on elementary education from Kean University.