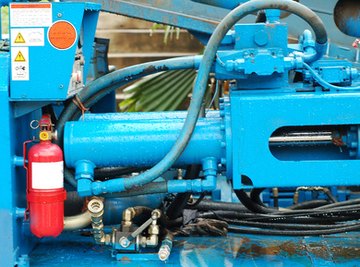 •••
hydraulic machine image by Heng kong Chen from Fotolia.com
Hydraulic power uses pressurized fluids to run machinery. Hydraulic power packs provide hydraulic power to a valve in another machine.
Identification
Hydraulic power packs are stand-alone devices, as opposed to a built-in power supply for hydraulic machinery. Some power packs are large, stationary units and others are more portable. They have a hydraulic reservoir, which houses the fluid, regulators that allow users to control the amount of pressure the power pack delivers to a valve, pressure supply lines and relief lines, a pump and a motor to power the pump.
Function
Hydraulic power packs typically offer a choice of valve connections, allowing users to connect them to a control valve or valves to power a variety of machines. The power pack supplies hydraulic power through a control valve to run another machine.
Maintenance
Hydraulic power packs need regular maintenance to extend their life and to allow safe operation. Maintenance includes checking the tubing for dents, cracks or other problems, changing the hydraulic fluid and checking the reservoir for rust or corrosion.
References
Photo Credits
hydraulic machine image by Heng kong Chen from Fotolia.com