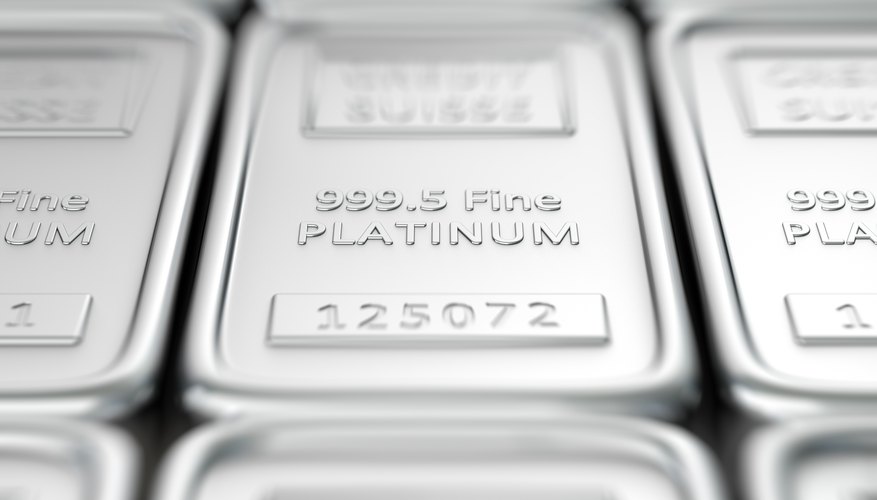 Platinum is a rare and valuable metal. It is often used in the automotive industry for the production of catalytic converters. It is also used for biomedical devices, dental work and jewelry as well. Platinum is very rare, and it is commonly found in sulfide ore mines, although it can sometimes be found with other ores. Because platinum is very rarely found in a pure form, it is sometimes difficult to identify, but there are several characteristics that can help you determine whether a metal is likely platinum.
Examine the metal. Platinum rarely forms crystals, so you are most likely to see flakes or small nuggets. When platinum does form crystals, it takes a cube shape, often with rounded corners or merging into other cubes. Platinum also may resemble silver.
Hold a magnet to the metal. Unprocessed platinum often contains small amounts of iron, making it very slightly magnetic. If it is highly magnetic, the metal contains a large amount of iron and is probably not platinum. This is considered one of the best indicators of platinum in the field.
Hold the metal in your hand if there is enough of it to do so. Pure platinum feels very heavy compared to its size. However, this is not always a good indicator, as a platinum specimen that contains significant quantities of other metals may feel light. Silver, which is the same color, and iron-nickel, which is also magnetic, will both feel much lighter.
Rub the metal against a white, unglazed porcelain tile or streak plate. This is a streak test. If it is platinum, you will see a shiny silvery-gray streak on the plate. However, this is not a completely conclusive test, as other minerals have the same streak color.
Scrape or cut the specimen gently with a knife or tap it with a hammer. Platinum is fairly soft and will be scraped easily with a knife. It is also very malleable, and the hammer should leave an impression on platinum.
Examine nearby minerals. Platinum often forms with chromite, olivine, gold, enstatite, pyroxene and magnetite. The presence of one or more of these minerals near the metal under examination indicates a higher probability that it is platinum.